Culinary Excitement
In the past, the quality of the catering inside the park varied greatly. Then they tried the concession approach, where one company had the contract to run just about every restaurant, café and picnic spot in Kruger.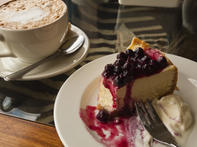 ©Roger de la Harpe
The result was standardisation, but often at the expense of culinary excitement. Now, as part of their Commercialisation as Conservation strategy, a variety of vendors have been given licenses to operate the various restaurants and takeaway joints, located in rest camps through the park. Current operators include South African stalwarts such as Mugg and Bean, Wimpy and Cattle Baron, as well as several independents.
Self-Catering Services
Depending on the size of the rest camp, catering options range from budget delis and takeaways to upmarket restaurants – often featuring an evening buffet. Eating out is not your only choice, however. If you are staying in the park for any length of time, it's a good idea to bring along your own supplies so that you can prepare a few home-cooked meals for yourself.
All SAN-Park accommodation is self-catering, with suitable kitchen facilities and cooking utensils supplied, and all the rest camps have well-stocked shops where you can buy any additional supplies that you might need. In fact, everyone who visits the Kruger National Park should indulge in that quintessentially South African pastime – the braai.
So, stock up on some boerewors, grab your tongs and enjoy your very own barbeque under the stars. You'll find yourself in good company. Every night, like clockwork, dozens of fires ignite across the rest camp lawns, as beers are pulled from the fridge and the smell of smoke and braaivleis (grilled meat) fill the air. It's an integral part of Kruger Culture, so get involved.
By
David Fleminger