Guided Game Drives
Guests should wear comfortable clothing on the game drives, and it is recommended that you dress in layers. Things can get pretty cold in the back of the open vehicle, especially in the early morning and at night. Blankets are usually provided, but bring along a warm jacket or jersey – and maybe something fortifying in a thermos.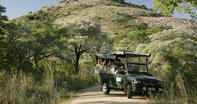 ©Roger de la Harpe
Guided game drive from Preotorius Kop, Kruger National Park.
You'll also want to bring along your camera and binoculars. The viewing vehicles are usually equipped with several hand-held spotlights, so guests can contribute to the night drive experience by shining lights into animals' eyes as they pass. Drives can be booked through central reservations or at the rest camp's reception office.
A nice twist to the standard game drive, Bush Braais take guests to 'an open area filled with burning lanterns where, whilst listening to the sounds of the bushveld and the distant animals calling, the food is grilled on open fires'. After your meal (with a cash bar) there's another short game drive back to the rest camp. Enquire at the rest camp reception if this activity is on offer.
Reaching For The Stars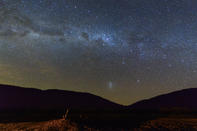 ©Roger de la Harpe
The Milky Way.
For a night drive with a difference, try out this exciting activity available at Olifants Camp. The experience starts with a late afternoon guided game drive in an open safari vehicle to N'wamanzi Lookout Point on the banks of the Olifants River, where you'll be treated to drinks and snacks.
This is followed by a talk on stars, planets and African folklore, while the guide points out celestial objects which are visible that evening. Guests then have the opportunity to view the night sky through a telescope. The total duration of the experience is 3 hours and guests should confirm departure times and availability at Olifants Camp Reception.
Explore Inaccessible Areas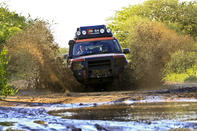 ©Jacques Marais
Kruger Park 4x4 eco-trail in Giraffe.
There are several tempting 4x4 self-drive trails in the Kruger National Park. These give you the opportunity to explore areas that are generally inaccessible to the public. The trails are designed primarily as nature experiences and not as extreme off-road adventures. In fact, a 4x4 is required mainly to reduce environmental impact, and not because the roads are bad. Some riverbeds and dongas will have to be negotiated, however.
The trails are weather sensitive and may not be operational during the wet season. All the trails are led by an experienced guide, and each vehicle must be fully equipped with tent, water, food, cooking equipment, etc. The eco-trails range from a short overnight excursion to a 5 night, 500 km expedition along the Lubombo Mountains.
By
David Fleminger