Creating the Reserve
In 1902, just after the end of the Second Anglo-Boer War, feisty Scotsman Colonel James Stevenson-Hamilton was sent to the Lowveld to run the Sabi Game Reserve.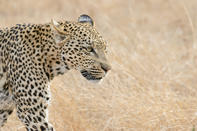 ©Shem Compion
Leopard, Kruger National Park.
The idea of wildlife conservation had detractors; many people, most notably hunters, were fervently opposed to it especially in one of the last remaining game-rich parts of the country. Even President Kruger had been an opponent, only acceding to the creation of the reserve after the bill's third round through the Volksraad, in 1898. Fortunately, public opinion changed, and the idea of a national parks system gained momentum.
Wily Stevenson-Hamilton curried the support of some influential men, but his masterstroke was proposing a name for the first park (which incorporated Sabi) that few in the Afrikaner government of the day would vote against. Without the Kruger National Park and its far-sighted first warden, it is unlikely we would have any national parks today. The huge bust outside the park's main gate should really be his.
By
David Bristow