Rise of Shingwedzi
In May 1903, the government proclaimed a new game reserve in the far north-east of the Transvaal. Initially proposed by Leonard Ledeboer, a resident of the Soutpansberg district, this large reserve was located between the Letaba and Limpopo rivers, on the international border between South Africa, Mozambique and Rhodesia (Zimbabwe).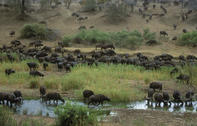 ©Nigel Dennis
A large herd of Cape Buffalo at Shingwedzi River, Kruger National Park.
The new protected area was called the Singwitsi (now known as Shingwedzi). The Shingwedzi region was (and is) very remote and very beautiful. Unlike the south and central parts of the reserve, Shingwedzi is quite mountainous, boasting several dramatic gorges (such as Lanner's Gorge) and lush river courses. The vegetation is also distinctive, with impenetrable stands of mopane trees, tropical ilala palms, garish fever trees and lofty baobabs.
Shingwedzi: The Ideal Place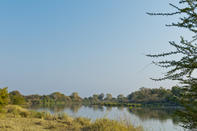 ©Roger de la Harpe
Kanniedood Dam near Shingwedzi Camp, Kruger National Park.
Furthermore, Shingwedzi contained relatively few native settlements, and white hunters had not invaded the dense bush in great numbers, so it still carried a fair supply of game. All in all, it was an ideal candidate for preservation and, after a successful vote in the legislature, it was placed under the control of the warden. James Steven Hamilton now found himself in charge of a huge area that extended several hundred kilometres, from the Sabi Reserve in the south to the Shingwedzi Reserve in the north.
He was also officially in charge of the old Pongola Reserve, a relic of the former Transvaal Republic, which was located on the other side of Swaziland. The time had come, he decided, to visit both the Shingwedzi and the Pongola regions to better gauge their condition. The trip to Pongola proved pleasant, but James Steven Hamilton quickly realised that the reserve was too small to be an effective refuge for game.
As such, he placed it on the back burner and re-assigned its eccentric warden, Major AA Fraser, to the vast and remote Singwitsi Reserve. Only two native rangers remained at Pongola, which slowly deteriorated until it was dissolved in 1921. The eccentric Fraser would remain as the sole authority figure in Shingwedzi for many years, with only tobacco, whisky and a baying pack of dogs to keep him company.
By
David Fleminger