World's Richest Gold Reef
The discovery of the world's richest gold reef on the Witwatersrand in 1886 signalled a sea-change in the economic development of the Transvaal in South Africa. Dozens of gold mines sprang up around the boomtown of Johannesburg and hundreds of outsiders flooded into the region, eager to make their fortunes.
©Roger de la Harpe
Panning for gold in Pilgrims Rest, Mpumalanga, South Africa.
However, the proliferation of gold mines required a substantial force of cheap black labour to keep them operational, and suitably cheap workers were in short supply. African natives, at this stage, still had their own lands and operated under their traditional leaders. As such, they enjoyed a relatively independent lifestyle and had no need to travel to the mines in search of work.
To remedy this situation, mining companies sent touts out into the villages of the Transvaal, Mozambique and beyond to recruit workers for the mines. These touts received a fee for each worker they signed up, so it is unsurprising that many of them used unscrupulous means to convince the naïve tribesmen to join their work gangs.
Promises of Wealth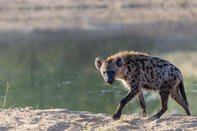 ©Roger de la Harpe
Spotted Hyena (Crocuta crocuta) Limpopo River, Kruger National Park.
In 1902, an organisation was set up by the Chamber of Mines to coordinate the recruitment of unskilled labour for the mines. This was named the Witwatersrand Native Labour Association (the WNLA or Wenela) and it operated several labour routes across the northern part of the Kruger National Park. In 1918, Wenela was even allowed to build a road through the Shingwedzi district to expedite their labour caravans from Mozambique.
Additional recruitment stations were subsequently set up in present-day Namibia, Botswana, Zimbabwe, Zambia, Malawi, Lesotho and Swaziland. Thus, tempted by often-specious promises of wealth and luxury, large groups of labourers were rounded up and sent to Theba Station – the Wenela base camp on the Limpopo River, near the present-day Pafuri border post. From here they were transported through the wild Shingwedzi region on foot, donkey cart or ox-wagon.
Building a 1500 km Road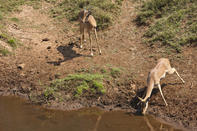 ©Roger de la Harpe
Impala (Aepyceros malampus) drinking in the Luvuvhu River, Kruger National Park.
The first outspan was located at the foot of a prominent baobab tree that grew on top of a rocky rise, just south of the Luvuvhu River. This tree still stands alongside the modern tar H1-8 road and is identified with a memorial plaque. From here, the procession continued to the south-west until they arrived at the Witwatersrand Native Labour Association terminus of Soekmekaar (now called Morebeng) in the Soutpansberg district. There were also WNLA/Wenela camps in the vicinity of Satara and Letaba.
This entire process was carefully controlled and Wenela paid the Portuguese £1 for every worker they recruited. They then charged the mines a finder's fee for every worker they supplied. Wenela and its affiliates (such as the Native Recruiting Company, or NRC) continued operating in this fashion across southern Africa for decades, eventually building a 1500 km road linking its stations in Namibia and Botswana and even launching its own airline (at one time the busiest in Africa). In 1977, Wenela and the NRC were amalgamated to become The Employment Bureau of Africa (TEBA), which continues to operate to this day.
An Innovative Solution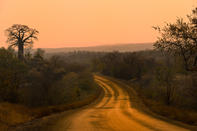 ©Roger de la Harpe
H1-8 Road between Punda Maria and Pafuri, which was used by migrant workers from Mozambique.
Despite the harsh conditions on the mines, many Mozambican labourers were keen to join the ranks of their brethren working in the cities. As a result, the Witwatersrand Native Labour Association system became oversubscribed and many job-seekers resolved to find their own way through the park.
However, following the Wenela model, any native Mozambican who wished to work in South Africa of their own accord also had to pay the Portuguese £1 for a labour pass that allowed them to cross the border. This sum of money was out of reach for most of the prospective workers, so James Stevenson-Hamilton helped facilitate a clever system whereby everybody got what they wanted.
This is how it worked: illegal Mozambican immigrants would cross the border and present themselves to the park authorities of the Kruger National Park as trespassers. They would then be sentenced to a fine of £1 or 14 days imprisonment, as was the law.
Voluntary Prisoner Work
These 'prisoners' that wanted to work on the mines were then sent to work off their sentence on various projects within the park (roadworks, camp construction etc.). The conditions of their imprisonment were very liberal and, after their two weeks of labour were up, each prisoner was released and given a permit to seek work in the Transvaal. The immigrants thus got their pass without having to fork over hard currency, and the park got a steady supply of free labour.
This nifty little arrangement became so popular that groups of up to 40 or 50 people would arrive at a time and humbly present themselves to the warden. In this way, much of the park's infrastructure was developed and maintained by the steady stream of voluntary prisoners. In 1926, however, the Portuguese became aware of this loophole and protested that they were losing out on the deal.
A new convention was subsequently drawn up and, henceforth, all illegal immigrants had to be handed over to a Portuguese agent. James Stevenson-Hamilton records the demise of his 'free labour' with sadness and states that after the supply of workers from Mozambique dried up, the salary bill for native labour increased considerably.
By
David Fleminger