The Rondawel Era
The first rondavels in the Kruger National Park were built in the 'Selby' style (named after an American engineer who served on the Park Board). The design called for units without windows, as it was thought that lions would leap into the huts and devour the tourists. Instead, they were built with a small gap between the wall and the roof, to allow the breeze to blow through.
©Roger de la Harpe
Modern day Rondavels, Skukuza, Kruger National Park.
A hole was also cut into the wooden door of the hut, so that the guests could check for wild animals before entering or exiting their accommodation. Predictably, the rondavels were stifling in summer and frigid in winter.
The lack of windows also made the huts very dark, and the peepholes were abused by passers-by, who couldn't help from looking into the huts in the hope of spotting a bit of human wildlife. In the mornings, the peepholes were often found stuffed up with socks and paper.
From 1931 onwards, rondavels were built with windows. A few of these original tourist huts have been preserved at Skukuza and Pretoriuskop, complete with period furnishings. They are open to the public and provide a fascinating frame of reference for the park's modern accommodation. The accommodation at Balule still utilises some of the original Selby huts.
First Ablution Blocks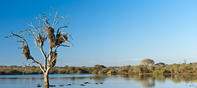 ©Roger de la Harpe
Hippos at Sunset Dam near Lower Sabie Camp, Kruger National Park.
In 1931, tents were supplied for the first time (at Skukuza and Satara) and the rest camps were fenced. A year later, the first ablution blocks with showers and baths were built at Skukuza. Hot water was also (controversially) supplied to Punda Maria and Letaba in 1933, with the other camps only receiving this decadent 'luxury' in 1939.
In other rest camps, such as Lower Sabie, old buildings were sometimes converted into larger guest houses but these structures were often dilapidated and fell out of use within a few years. More remote camps, such as Punda Maria, had to make do with traditional wattle and daub huts, as concrete was in short supply.
A number of additional rest camps were also established around the reserve in these early years, but several were subsequently abandoned due to flooding, mosquitos or logistical reasons (such as Rabelais Gate, Malopene and Tsokwane – now a picnic site).
To compensate for the increasing demand for additional tourist accommodation, an appeal was made to government in 1935 and £30 000 was released for the construction of new facilities (including a spanking new rest camp at Lower Sabie), as well as improvements to water supplies for the game.
Well-known architects Gerard Moerdyk and Gordon Leith were commissioned to design and supervise the expansion of the various rest camps (often under considerable budgetary constraints). And slowly, the Kruger National Park that we know today began to take shape.
By
David Fleminger