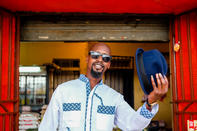 © Andile Bhala
When going for an interview, dress smartly, do not wear sunglasses and take off your hat.
Often young people who want to start farming begin as interns or apprentices on commercial farms. Future Farmers Foundation is an organisation who interviews and places applicants on farms to gain practical experience in farming. Once they have completed their internships in South Africa, many of the apprentices go on to complete internships on international farming concerns. Founder, Judy Stuart and some 'future farmers' who completed their internships shared some tips to ensure good interviews.
No Cellphones in Interviews
Cellphones have no place at job interviews. Turn it off or leave it at home. Answering a phone while in an interview is disrespectful and bad manners. When you are looking for a job you need to arrive early, create a good impression and show respect.
Be Neat and Tidy
Shower and ensure you smell fresh. Dress smartly. Do not wear sunglasses. For men, showing up with piercings and fancy hairstyles are not going to help if you are after a farming job.
Smile
You may be nervous during an interview but try to smile. It will make a good impression. It is great to work with people who are happy, they uplift everyone around them and make work pleasant. Practice your handshake, make sure it is firm. This conveys a feeling of confidence, even if you are not.
Good Posture
When you sit down, sit up straight. If you slouch or slide down in your chair, it may look like you are bored or disinterested. It helps to lean forward and make eye contact with the person interviewing you.
Ask Questions
When interviewed, you will be asked questions, which you need to answer. But you should ask questions too. Do some research about the farm and the position you are applying for. The more you know about the farm and interviewer, the better. You can ask questions about the farm; this will show you are interested and well-informed. The more interested you are about his/her farm, the more interested he/she will be in you, the candidate. You will also learn more about the job and find out if it is what you want to do.
When the interview is over, show your appreciation and thank your interviewer for his/her time.
By Judy Stuart