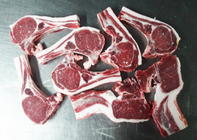 © Gerrit dos Santos
The export of goat meat from South Africa in 2018 decreased from 43 tons (2016) to 1.2 tons and includes 13 kg of goat meat to the United Arab Emirates.
Live imports of goats into South Africa must comply with export permits for livestock from neighbouring countries and with sanitary measures of South Africa. In reverse, the export of live goats must comply with import permits from the importing country.
Import of Live Goats to South Africa
According to export figures from the Meat Board of Namibia (Nammic) just under 140 000 live goats were exported to South Africa from Namibia in 2017 (compared to 158 000 in 2016 and 198 000 in 2015).
Up to September 2018, a further 103 000 Namibian goats were welcomed in South Africa and, also in 2018, a shipment of live goats from Botswana arrived. However, with veterinary disease restrictions in place in various areas of Botswana, the area from where animals are bought must be carefully selected.
Goats are also imported from Swaziland - 39 animals in 2018 (compared to 510 animals in 2016) and from Lesotho - 4280 animals in 2018. This is almost half of the imports (9 630) from Lesotho in 2016.
Exports of Live Goats from South Africa
Live goats are exported from South Africa to a number of African countries including Namibia (34), Sudan (103), Senegal (38) and Swaziland (117). Other countries that have imported live South African goats in 2018 include Bangladesh (15 goats), Mauritius (1099) and Saudi Arabia (106).
Figures for exports in 2018 are up to September.
Apart from living animals, embryos and breeding material are also exported from South Africa.
Imports of Goat Meat to South Africa
According to the Department: Agriculture, Forestry and Fisheries (DAFF) South Africa mainly imports fresh, chilled or frozen goat carcasses; fresh, chilled or frozen goat cuts with bone in; and fresh, chilled or frozen boneless goat meat. During the period of 2007 to 2016, South Africa imported about 6 200 kilograms of chevon per year yielding an average R83 139 per annum.
In 2017, only 1.8 ton of goat meat was imported from Namibia. Up to September 2018, no goat meat was imported into South Africa.
Export of Goat Meat from South Africa
DAFF, in its report 'A Profile Of The South African Goat Market Value Chain' (2017) said that:
South Africa exported chevon to a total of 43 tons of at a value of R2.7 million during 2016 (R62/kg). This was an increase of 115% (in mass) and 87% (in income) from 2015 to 2016.
Despite an increase in the export of goat meat from 2015 to 2016, the figure for export meat has dropped drastically in 2018.
The 2016 figure of 43 tons of exported goat meat decreased spectacularly to a figure of just over 1.2 tons up to September 2018. This includes an export of 13 kg of goat meat to the United Arab Emirates.
Exports of goat meat to Swaziland decreased from over 35 000 kg in 2016 to just 7 kg in 2018.
Judith Weideman of Kalahari Kid Corporation (KKC) stated that KKC's markets include Mauritius, Hong Kong, Uganda and Nigeria. 'When the ban is lifted again, KKC will continue to supply goat meat to Kuwait, Saudi Arabia, Oman, Dubai, Qatar and Bahrain'. No comment from the state veterinarians of the Department: Agriculture, Forestry and Fisheries could be obtained to explain why this ban is in place or when this would be lifted. (December 2018).
KKC is an entity owned by the Northern Cape provincial government and is the 'Special Purpose Vehicle' (SPV), used to commercialize the goat industry in the Northern Cape.
By Marinda Louw