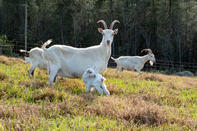 © Chris Daly
A Saanen dairy goat and her kid on a goat farm near George.
Goat Farming in South Africa is an important economic and social livelihood. Goats produce milk, meat, skins, cashmere, mohair and play an integral part in religious and cultural ceremonies. They are mankind's first domesticated animal and have been farmed in conditions ranging from the harshest climates to the most modern intensive dairy farms in the world.
Goat Farming in South Africa is aimed at subsistence farmers in rural areas, stud breeders, mohair producers, dairy farms and commercial meat farmers. With this range of goat-related topics in all 11 official South African languages, SouthAfrica.co.za hopes to empower goat farmers to learn more about these fascinating and versatile animals.