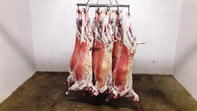 © Gerrit dos Santos
The commercial consumption and retail availability of goat meat in South Africa is limited, yet the meat is low-fat and high quality protein.
Goats produce fibre, skins and milk but the primary reason for keeping goats is for goat meat production. This contributed in meat goats constituting the major proportion of the world goat population.
Goat meat is derived from culls from Boer goats, indigenous goats, as well as older Angora and milch goats (dairy goats). Chevon is also derived from male goat kids. Other goat products such as dairy products and mohair are considered either primary or secondary products.
The commercial culling of goats is influenced by the economic value of these products - in other words, underperforming dairy and older fibre goats are slaughtered for meat. The traditional slaughtering of goats for the cultural use of goat meat is, however, the mainstay of the goat farming industry in South Africa, this is supplemented by Boer goats and limited (seasonal) availability of older Angora goats.
The majority of goats (most often indigenous goats or cross-breeds) used for goat meat in South Africa is slaughtered in a traditional way and used for cultural and religious use.
Boerbok SA recommends the marketing of meat goats between the ages of 3 and 12 months to yield a carcass of not heavier than 23 kg.
According to South Africa's Department: Agriculture, Forestry and Fisheries (DAFF) goats are found throughout the country with the Eastern Cape (39%), Limpopo (18%) and KwaZulu-Natal (13%) provinces being the largest producers, contributing 70% of the total live goats produced in South Africa (2017 survey).
Slaughtering of Goats
It is estimated that between 0.5 to 5% of all goat breeds slaughtered in SA go through formal abattoirs.
Goats used for the 'religious' market is mostly sold live and then slaughtered according to custom. Goats are slaughtered in a specific way for weddings: According to the custom of the families, where the eating of the meat is restricted to certain individuals. In burial rituals, traditional healers have to suck the blood and wear the gallbladder of a goat as a headdress. After male initiation ceremonies, initiates celebrate their rite of passage with roasted goat meat and maize meal.
According to Kalahari Kid Corporation, the commercial slaughtering of goats for export purposes comply to the strictest Halal and ISO standards and slaughtered at an export approved abattoir, ZA105 in Groblershoop in the Northern Cape. The Colesberg abattoir is also used and if needed the abattoir in De Aar.
By Marinda Louw