Farming is not only about choosing a crop or an animal to farm. To farm successfully and to understand nature you will need to understand the climate, weather, rainfall and temperature of an area.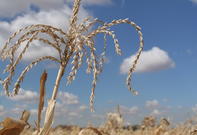 ©Leonie Joubert
Crops grow best where temperature, rainfall and climate are optimal for that specific crop.
This range of articles on climate and farming in South Africa will explain some basic natural phenomena that can influence farming and the crops we choose.
This content on climate and farming in South Africa is sourced from training material for extension advisors developed by a team of consultants lead by the University of Pretoria. Researchers include Dr Joe Stevens, Pieter van Heerden and Prof MC Laker. The project was funded by the Water Research Commission (WRC).