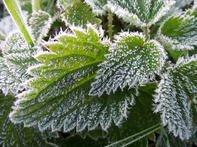 © Robert Reisman
Frost can cause damage and even the death of a plant.
Frost is the white layer of frozen water when minimum temperatures at ground level are below 0ºC. Frost can be seen on the ground or on plants close to the ground. Some crops are badly damaged or killed in freezing temperatures, caused by ice crystals inside the plant, so frost is a very important climatic parameter to determine the suitability of a crop in a specific farming area.
The number of days on which frost occurs may not affect a crop as much as the number of continuous days of frost. Crops have different minimum temperatures below which plants will be severely damaged or killed.
This temperature differs widely between different crop species. Some crops, such as tropical and subtropical crops may already be killed at a temperature of 5ºC. To decide which crop to plant in your area, you will need to assess its sensitivity to frost.
What is Black Frost?
'Black Frost' is when subfreezing temperatures occur but no white frost is seen. It does not occur often, once in a few years, but it is more damaging than the usual white frost and can kill plants and even parts of trees.
Entry Date of Frost
The 'entry date' of heavy frost means the end of the growing season for crops that are sensitive to frost during their ripening period. If the crop has not ripened by the exit date serious yield losses may occur. Working back from this date, a farmer can estimate the last date for planting in order to avoid frost during ripening.
In the maize areas of Sandvet, Vaalharts, Orange-Riet, Douglas and the Lower Orange River, the entry date of frost is about 20 May. Long-season maize, growth season of about 150 days, must be planted no later than mid-December. For winter growing crops that are sensitive to frost in their seedling stage, planting dates can be arranged so that the plant is past its sensitive stage when the frost sets in.
Exit Date of Frost
The exit date is the start of the growing season for summer crops that are sensitive to frost during their seedling stages.
In rainfed farming areas, planting should only be done after the first 'planting rains'.
In irrigated farming areas planting can be done as soon as the frost danger has passed and temperatures are high enough. For early marketable summer crops like vegetables, watermelons and sweet melons, this is an advantage in order to achieve good prices.
Frost Areas in South Africa
Farms in the central parts of South Africa with the long and harsh frost periods are all high above sea level and far from the ocean. Cloudless winter nights and dry air contribute to the occurrence of frost. Around the irrigation schemes in the Free State and Northern Cape, the frost period is relatively long, from 91 to 120 days.
Farms in and around the irrigation schemes in the Limpopo Valley, northern Limpopo Province, the Lowveld (Mpumalanga and Limpopo Provinces) and the coastal plateaus of KwaZulu-Natal, Eastern Cape and Western Cape Provinces have a very short frost period of just a few days per year to up to 30 days of frost. In the Eastern Cape, the frost period, 1 - 30 days, is shortened due to the influence of the deep river valleys on the temperature.
These valleys are slightly warmer than the Eastern Cape plateau and therefore has less frost. Most Eastern Cape irrigation schemes are situated in these valleys. There is a wide frost-free strip along the northern KwaZulu-Natal coast due to the influence of the warm Mozambique sea current.
This includes the Makhatini irrigation scheme. Sub-tropical crops, e.g. bananas, avocados, guavas, and even tropical crops, cashew nuts, could be grown here. Research on coconut palms, a tropical crop, has been done at the Makhatini experiment farm.
Frost-free areas in South Africa include the coastlines of the Eastern and Southern Cape as well as in central KwaZulu-Natal. The narrow frost-free area on the eastern borders of Mpumalanga and Limpopo Provinces lies mainly inside the Kruger National Park.
Source Water Research Commission