Discover the Wine Routes of the Cape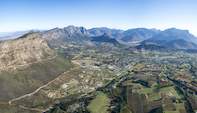 ©Jean Tresfon
Aerial view of Franschhoek Valley on the Cape Wine Route.
Despite its singular moniker, the Cape 'Wine Route' is actually not a predetermined route that you follow, but rather a series of well-established roads which lead through the main wine-producing regions of the South-Western Cape. If your tastes run to the viticultural, this excursion into the cellars of the country's foremost wine producers is not to be missed.
South Africa has a long history of winemaking that dates back to the arrival of the French Huguenots at Franschhoek, over 300 years ago. When they landed here, these Protestant expats realised that the South-Western Cape has excellent conditions for the cultivation of grapes: it is in a Winter rainfall area, the soil composition is rich and varied, and it contains a number of micro-climates, so each region (and even each estate) offers its own unique flavours and blends of wine.
The heart of the Cape Wine Route is roughly delineated by the triangle formed by Stellenbosch, Paarl and Franschoek. Drive along just about any road in this part of the world and it will be studded with well-marked turn-offs for the various wine estates en route. Avid epicures can therefore spend days winding through the countryside, nibbling on cheese platters and letting the multitude of fine South African wines play across their palates. Either way, the Cape Wine Route is a good excuse to get away from the buzz of the beach, and escape into the tranquil countryside.
There are many wine routes in the southwestern Cape, but they are not really routes in the way serious travellers understand the term...
more
This is where it all seems to hang together - the vines, the oak trees, the whitewashed houses and even the red and white roses planted next to the vines. Nature reserves in the area offer guided trails...
more