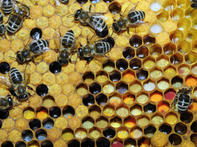 © Waugsberg
Pollen of different colours as well as some bee larvae in the uncapped cells can be seen here.
The most important thing new beekeepers in South Africa will need when starting beekeeping is knowledge. You will need to understand the specific technique to manage bees, the hive structure, the bee's tasks, its body and how it feeds, its favourite foods, predators and diseases. Honeybees in South Africa are tricky and intricate to manage, but there are various market-related opportunities in beekeeping.
If you want to start bee farming in South Africa, new beekeepers will also need a swarm (or bee colony), a hive and a place to put the hive, close enough to a food source for bees. (A good source of forage and water will produce an excellent yield of honey). Protective clothing and some tools to work with the hive and colony will also be needed.
SouthAfrica.co.za offers prospective bee farmers a chance to learn more about commercial beekeeping in South Africa, with tools provided by industry experts and a range of articles related to bee farming, honey farms, bee-products and how to start beekeeping.