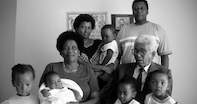 © Eric Miller
After Albertina married Walter she became submerged in his political passions. When he went underground to head Umkhonto we Sizwe (the military wing of the ANC) she became the breadwinner for the family. On her nurse's salary she supported her children, adopted children as well as several nieces and nephews.
Despite her limited resources she insisted every visitor be well fed and that her home and garden be in pristine condition. Many activist fathers were forced into exile or imprisoned during the apartheid years.
Albertina Sisulu stepped up and became a second mother to the children of her friends who couldn't be with their families. Dali Tambo, son of Oliver Tambo, was one of these children. "She gave me unconditional love.
She called me her son, I called her my mom and she was my second mother," he said. While Nelson Mandela and her husband were imprisoned on Robben Island together, Sisulu cared for his children as well as her own.
The families shared a strong bond that lasted generations. Albertina remained close with Mandela even after her husband's death and was one of the first people to visit him when he fell ill.