Nontsikelelo is Born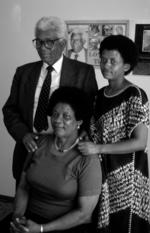 ©Eric Miller
Nontsikelelo Thethiwe was born to Bonilizwe and Monikazi Thethiwe on 21 October 1918, in the Tsomo district of the Transkei in the Eastern Cape, South Africa. Nontsikelelo was the second of five children.
Her mother was constantly ill and weak after surviving the Spanish Flu and Nontsikelelo often had to care for her younger siblings. When she was 11 years old her father died and by the time she was 15 her mother had passed on too, leaving her to take on a permanent motherly role providing for her three younger siblings. She adopted the name Albertina when she started school in Xolobe.
By the time she reached the end of primary school she was two years older than the rest of her class due to her extensive absences. Despite this, she excelled in cultural and sporting activities and was even elected as head girl.
The only time her age worked against her was when she was denied a four-year high school scholarship, even though she had achieved first place in the competition to win it. Albertina's teachers were angered by the unfair treatment and wrote to the local Xhosa newspaper, Imvo Zabantsundu, hoping to make a strong case for her to win the prize.
The article caught the attention of the priests at a local Roman Catholic Mission who spoke with Father Bernard Huss at Mariazell College. Albertina was then offered a four-year scholarship at Mariazell and her whole village celebrated.
Conditions in the country meant that not many children were afforded the opportunity of an education. Her older brother had not gone to school. Instead, he had to tend livestock and work for food for the family.
Working as a Nurse
At the end of high school Albertina was faced with the decision of what she would do after. Her dream was to become a teacher, but conditions did not allow for this to happen. She had converted to Catholicism while at Mariazell and, with the resolve to remain unmarried, she decided to become a nun.
Under the advisement of Father Huss, she realised that becoming a nun would make it difficult to support her family. Nuns earn no salary and do not leave their mission post. Which would mean that, Albertina would be unable to help her family with money or see them when they needed her. So she decided to become a nurse instead. The money she earned while training and working as a nurse helped her take care of the brothers and sister, putting them through school.
She began training at Johannesburg General Hospital in 1940 and started as a midwife in 1946. She often had to walk to visit patients in townships, carrying her materials and equipment in a suitcase on her head. It was while working as a nurse that Albertina met her would-be-husband, Walter Sisulu.
As a member of the African National Congress (ANC) one of Nelson Mandela's earliest mentors, Walter was deeply politically involved and soon Albertina was drawn into the political activism. She went on to become instrumental in the destruction of the apartheid regime, keeping her head through decades of government harassment, imprisonment and hardship. She became affectionately known as the 'Mother of the Nation'.
Flags at Half-mast
Albertina Sisulu reached the end of her life on 2 June 2011 at the age of 92. She was at her home in Linden, Johannesburg watching TV with her grandchildren when she suddenly fell ill. Paramedics rushed to the scene, but were unable to revive her.
The then president of South Africa, Jacob Zuma, visited her family to pay his respects. He announced that she would receive a state funeral and that national flags would be flown at half-mast from 4 June until the day of her burial. Albertina is survived by her children, Max, Mlungisi, Zwelakhe, Lindiwe and Nonkululeko as well as her 26 grandchildren and three great-grandchildren.