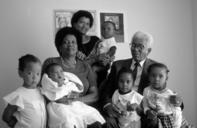 © Eric Miller
A Nurse in Soweto
After she graduated from high school, Albertina Sisulu decided to train to be a nurse. In 1940 she started work at Johannesburg General Hospital, where she nursed with Nelson Mandela's first wife, Evelyn.
It was here that Albertina also worked with her future husband's sister, Barbie. Life as a trainee nurse was not easy. Albertina had to deal with the ingrained racism of her white co-workers, even those more junior in position than herself. Furthermore, she had to use her meagre earnings to pay for her own uniform and most of her time was spent at the nurse's hostel.
As a midwife, Albertina visited her patients in the townships and this was done on foot. Albertina had to carry all her midwife equipment and medicines from house to house.
This was usually done with the help of a suitcase on her head. Albertina became a Registered Nurse in 1944 and a midwife in 1954. In 1980 she was appointed senior nurse of a small hospital in Orlando East, Soweto. She continued to work here until she went on pension in 1983.
After that she worked for Dr. Abu Baker Asvat, a private doctor in Soweto. He allowed her to continue her political activities while employed by him and the two developed a close relationship. She continued to work for him until he was murdered in 1989.
The Plight of Women and Children
During the 1950's Albertina became an important part of the Federation of South African Women. She was at the forefront in fighting against gender suppression and marching as a protest against the pass laws. Albertina was involved in the recruitment of nurses to go to Tanzania to replace British nurses who left when Tanzania became independent in 1961.
In 1983, she was the co-president of the United Democratic Front (UDF). In 1989 she led a delegation of UDF leaders to Europe and the USA meeting with Prime Ministers and Presidents to let them know the plight of many in South Africa during apartheid. These activities came with a price, which included police harassment, banning orders and even detention.
After the struggle was over and South Africa had its first democratic election in 1994, Albertina Sisulu became a Member of Parliament and her main concern became the plight of women and children.
For more than 50 years, Albertina's life was spent committed to the Albertina Sisulu Foundation working continuously to improve the lives of children and the elderly. She also founded the Albertina Sisulu Multipurpose Resource Centre/ASC dedicated to the development of Orlando West, the community where the Sisulu family lived.
The centre aims to tackle social issues and alleviate hardships, offering services such as the following: A school for children with special needs; an Early Childhood Development Centre; a section for out-of-school youths with disabilities where they can learn skills to make them employable and active participants in the country's economy; a nutrition programme; a multipurpose community hall; and an outreach programme.