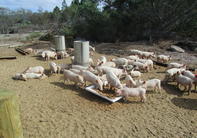 ©Dr Jim Robinson
The cost of raising and feeding should be considered when deciding on when to sell a pig.
The longer you keep the pigs on a farm, the more expensive it gets to feed them and the bigger the risk that they might fall ill or get injured. Farmers therefore need to identify the best time to sell their pigs, based on their production system and conditions, the breed of pigs they produce and the growth rate of their pigs.
Time of Sale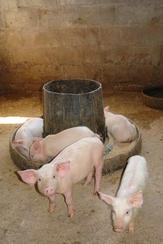 ©Glenneis Kriel
Weaners are traditionally sold when they are six weeks or ten to twelve weeks old.
Animals can be sold at anytime, but weaners are traditionally sold sold at six weeks when they weigh 9 to 10kg to boost cash flow, or at 10 to 12 weeks when they weigh about 25kg. Porkers and baconers are sold when they are older, with porkers usually having a live weight of 70kg and baconers having a live weight of 75kg to 95kg.
Price Negotiations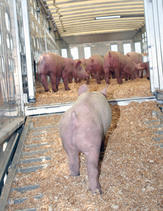 ©National Pork Board and the Pork Checkoff, Des Moines, IA, USA.
Porkers leaving the farm.
To determine a fair price, the South African Pork Producers Organisation (SAPPO) in their Pigs for Profit production manual advises farmers to use the current price per kilogram for baconers as the point of departure for negotiations.
The price for young weaners that weigh 9 to 10kg, are usually about 24 times the price that would be paid per kilogram for baconers and roughly 30 times that for weaners that weigh around 25kg.
The price for porkers are generally higher than for baconers. Talk to other farmers to hear what they are getting and read agricultural magazines to familiarise yourself with what is happening in the market.
Where to Sell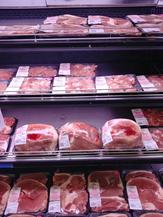 ©Glenneis Kriel
Pigs may be sold directly to a butcher.
It would be a huge mistake to just start a piggery and then hope for the best by the time you need to sell your animals. For the best results, you need to identify and secure the market before you invest large amounts of money on a farming enterprise, which is easier said than done since most buyers want to see your produce before they buy it.
You could work through an agent. These agents usually work for a fee on behalf of producers at large abattoirs. They will take care of all the arrangements at the abattoir, such as the payment of the abattoir, inspection and grading fees and negotiate a price for your pigs on the day of delivery.
An alternative is a private contract with a butcher, distributor or retailer, which is great because the prices are usually fixed for a specific period which helps to protect producers against daily price fluctuations. The challenge here is to have enough volume and a consistent supply of good pigs. Producers could overcome this challenge by pulling resources and marketing their produce together.
Pigs can also be sold at auctions, directly to small abattoirs as they become available or for home slaughter. When transporting live animals, farmers should ensure they have the necessary movement permits, otherwise the pigs might get confiscated. Pigs for Profit warns against sales to travelling speculators, who go from farm to farm to buy pigs, because there is a high risk that they can bring a disease onto your farm.
By
Glenneis Kriel