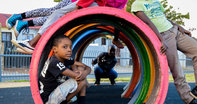 © Andile Bhala
The stories of everyday people of South Africa are as important to tell as the stories of our leaders. The average citizen forms the backbone of our country and enhances its history, culture and social science within society. South Africa is home to over 55 million people, and these people all have bittersweet narratives that form South Africa's unique and beautiful humanity.
SouthAfrica.co.za showcases a range of stories from the often silent majority of South Africa - the everyday citizen, surviving and thriving, working within their communities to better their lives and those of others. Stories of unique women, children and men are told that fully embody the beauty, hardships and triumphs of ordinary South Africans.
South Africa's public health system is a network of medical care across the country, providing access to treatment for all South Africans....
more
Women of South Africa are a unique kind of wonderful - they are strong, beautiful and resilient in their everyday lives. South Africa has remarkable, ground-shaking women...
more