Uprisings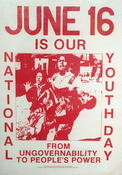 June 16 1976, is an unforgettable day in South African history because it shattered white illusions of peace and prosperity. It started politicians and civil servants talking about the need for "change". Soweto school children marched on June 16, 1976, to try to see education officials about the "language issue".
They realised their parents, teachers and school boards had been unable to persuade the apartheid government to change its iniquitous policy of forcing black children to learn half their subjects in Afrikaans. If this language is spoken at all by the Soweto people it is usually their third language after English and Sotho or Zulu.
There were also insufficient black teachers qualified to teach in Afrikaans. Reason had failed so the kids decided to talk to the education authorities themselves. On the way, the learners met a group of policemen who stopped them. These men were ignorant of the trigger hair emotions that had built up over the issue. A shot was fired. A stone was hurled.
Which was first will be argued forever, but they sparked off the worst three days of shooting, mob violence, looting and destruction of property that South Africa had ever seen. Similar incidents rippled through the country during the next six months.