Schools Unite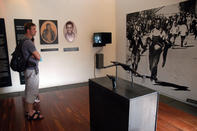 ©Eric Miller
Iconic photo by Sam Nzima taken on June 16th 1976, showing Hector Petersen being carried after being fatally wounded.
On the Wednesday morning of June 16, at around 07h30, about 600 pupils from Thomas Mofolo Junior School in Naledi, Soweto, huddled together to hold a meeting. Just the pupils, as no teachers were around.
A mile away, at Naledi High, the assembly bell rang out, and the students filed out of their classrooms, meeting others outside of the school. From beneath their clothes, posters were unfurled and placards raised with cries of "Power! Away with Afrikaans" and "Free Azania, Power".
These students, nearly 700 strong, marched into Nyakale Street en route to Naledi Thomas Mofolo School, shouting slogans and brandishing their homemade posters. From there, they were on their way to Phefeni Junior Secondary School in Phefeni, another suburb situated about six miles away. Everyone was in high spirits, cheering, with younger children watching and waving from the roadside.
The Morris Isaacson High School was already deserted, the 800 or so group of students had begun their march to Phefeni, straight after assembly. They left the school singing "Nkosi Sikelel' i-Afrika," and waving their placards.
Planned Well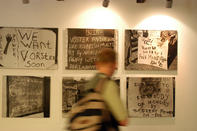 ©Eric Miller
Writing on the wall, Hector Petersen Museum, Soweto.
The school children had carefully planned amongst themselves, as well as with the South African Students Movement (SASM), a protest that would take Soweto, South Africa and even the world by storm. Remember that this was a time with no cell phones, no internet and no social media.
The students wanted to protest in sympathy with other pupils from five primary and junior secondary schools, who had for the past five weeks been boycotting classes. They were objecting to the compulsory use of Afrikaans as the language of instruction. The Soweto school children wanted their voices to be heard. It turned out to be a momentous day, a day never to be forgotten.
The column of school children marched from the schools, their ranks swelling as they marched, chanting freedom songs and waving their placards as they went by. They turned onto the grassy veld at the bottom of Tladi, then right into Ligwale Street, taunting motorists driving the other way.
At the top of Moletsane, the marchers turned right towards Molapo Junior School, where more students swelled the ranks of chanting school children, all on their way to Phefeni Junior School. Here they joined with thousands of other pupils from nearby schools, Musi, Mncube, Sekano-Ntoane, Morris Isaacson, Meadowlands, Diepkloof and Orlando North, all converging in Vilakazi Street, outside Phefeni Junior.
All Hell Breaks Loose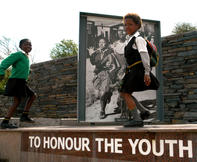 ©Eric Miller
Children explore the Memorial at Hector Pietersen Museum, Soweto.
The huge crowd blocked the entire street, it stood almost half a mile deep down the road with more student groups joining from Naledi, Moletsane, Emdeni and Molapo.
Armed police arrived in their vans and trucks bringing more police and dogs with them. The police, climbed out of their cars and walking side by side, walked towards the crowd of protestors. The blue-uniformed police officers, stood side by side in the middle of the road, looking at the seething mass of school children shouting and waving their placards. Even more police arrived, with dogs and armed with rifles.
"Are you really going to kill our children?" a woman in a group asked a police sergeant as he strode past. "No, there'll be no shooting," the officer said calmly. "The children are not fighting anybody, they are only demonstrating." He was still talking when an officer on the extreme right quickly stepped to the side, stooped down and picked up what seemed like a stone, then hurled the object into the huge crowd.
Instantly the kids scattered, the fear was palpable. They picked up stones, and surged back onto the street, shouting "Power, Power!" running back towards the police line.
Shots Ring Out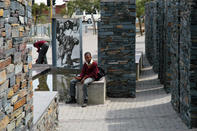 ©Eric Miller
Bang! A shot rang out, then another and another. The crowd broke up, children were running in all directions, into alleyways, side streets and into homes. Some froze and stood in the middle of the road, the police ignored these ones, they were intent on following the fleeing students.
The gunfire stopped as suddenly as it had started. A child and a man lay dead, with several wounded. Everyone was shaken, but especially the students. They were stunned, baffled, grim and dumbfounded, standing in groups whilst the wounded lay wailing.
The peaceful march had turned violent.
A young girl, Antoinette Sithole, searched for her younger brother, Hector Pietersen. He'd been in the crowd earlier, now when it was time to go home, she couldn't find him. As she searched she saw a group of boys, standing around another boy lying wounded on the ground. It was Hector, he'd been shot and was bleeding.
Antoinette began to scream. Mbuyisa Makhubu came to help Antoinette, and carried Hector to the clinic in his arms, with Antoinette by his side. The horror and tragedy were mirrored in their faces, which Sam Nzima captured in his iconic photo, as they walked towards the clinic. Hector, tragically was declared dead at the clinic.