South Africa's cuisine is as diverse and colourful as its rainbow nation. With influences from the indigenous population, along with the Dutch and English, South Africa offers a range of mouth-watering dishes that are sure to excite the palate. These culinary contrasts truly reflect the culture, history and geography of this vast land.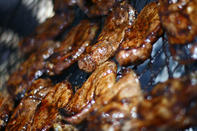 A braai (barbecue) is a staple of South African cuisine.
This guide to South African cuisine explores South Africa's historical heritage contributing to the diversity of its recipes, which originated during the settling of the Dutch East India Company's Service Base, in the Cape Province. Sea-farers of various nations, Malayan Slaves, French Huguenots, British and Scottish Settlers - who settled in South Africa - all contributed to South African Cuisine.
The exotic dishes of the Malay and Indian kitchen predominantly influenced the South African Cuisine, i.e. favourite dishes such as "Sosaties" (mutton and beef shashlik), "Bobotie" (mutton- mince and curry casserole) and various types of meat and vegetable stews. These specialities, especially the "Waterblommetjie bredie" is best enjoyed in the Cape region.
Beef, lamb, or fish curry dishes should best be tried in Durban. These deliciously diverse appealing meals can be prepared back home - none of the recipes are very difficult. Simply visit the Indian market in Durban, where all sorts of exotic spices as well as recipes may be acquired.
For fish and seafood lovers, South Africa is just the right place, considering its coastal stretch of over 3000 km. The fresh "catch of the day", mussels and especially crayfish are extremely popular.
The British introduced roast beef and various puddings. Cucumber sandwiches, scones and crumpets are typical for traditional tea times. The typical English Breakfast was also introduced to South Africa. This is still served in all major hotels today.
As for dessert, the "melktert" (milk tart) must be tried. During the long treks, needs led to inventions, resulting in various tasteful methods of keeping meat fresh. Large quantities of pre-cooked meat is used for "Bobotie", the meat of various "Sosaties" are vinegar marinated meat pieces."Biltong", an enjoyable snack, is a well-seasoned and air-dried piece of meat, which can be gained from cattle, kudu, ostriches or even elephant.
Sunny Skies and Braaivleis
The South African's love for grilling meat - a barbecue, dates back to the Voortrekker era, the first pioneers in the foreign country. On their long treks, only the bare necessities of life were taken along; this resulted in freshly hunted meat being grilled over an open flame.
This custom later led to the South African's favourite pastime, the "Braaivleis"; "Braai" meaning grill, "Vleis" meaning meat in Afrikaans. Beef, pork, mutton and a ring-formed "boerewors"(sausage), as well as "pap" (a dry mushy maize porridge), contribute to a Braaivleis, which results in a mighty thirst. However, plenty of good wine and fresh beer solves this problem.