Local is Lekker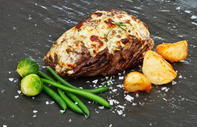 Roasted ostrich fillet with blue cheese and peppercorns is some of South Africa's great tasting fare.
Like learning to speak a bit of the local language, you get a better sense of a country if you at least try the local food. Fresh mopane worms, quick-fried termites, and rat kebabs are the absolute extremes of African cooking and probably won't be on a safari-camp menu, but local dishes such as ostrich meat, crocodile, or springbok (a type of venison) likely will be offered and are definitely worth trying. Expect also to see African staples such as corn on the cob, pap (a type of cornmeal), and peri-peri (hot-pepper sauce) at the safari table.
Biltong
Okay, so raw meat doesn't sound that appealing, but when it's been spiced, salted and hung out to dry it's delicious — and difficult to stop eating. Even the strictest of vegetarians have been known to give in to biltong.
Dried meat has been part of the human diet since cavemen discovered they could not consume an entire woolly mammoth in one sitting. During the last Ice Age, wind-drying meat was fine, but in Africa it would go vrot (rotten), in days if left outside. The early Dutch pioneers did it here using preserving spices from their depots in the East, such as pepper, coriander, chilli, ginger and, of course, salt. Then you had to keep the flies off so that they wouldn't lay eggs in it. Wors is much easier, because it's already half-made, and all you need to do is dry it. The word 'biltong' means tongues, or strips, of beef, but game meat is also used, which many people prefer. They are available from supermarkets to farm stores.
Maltabella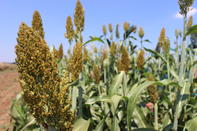 Sorghum is used to make porridge and has a rich, malty flavour.
Once upon a time we were enamoured of foreign things, but the trend now is towards the indigenous; local is, after all, lekker. So while putu pap might be the staple of the masses, its Central American origins make it a cultural has-been in certain circles. Before the Portuguese brought maize to Africa, the people used sorghum to make porridge meal as well as traditional unfiltered beer (shake-shake, chibuku, ijuba, call it what you will). Sorghum is an indigenous African plant that's been a staple here for millennia. It was first produced commercially more than half a century ago, and today wheat intolerant people are rediscovering its rich, thick, brown, malty taste.
Mrs Ball's Chutney
In the 1870s, Elizabeth Sarah Adkins, 'MIS Henry Adkins Senior, Colonial Chutney Manufacturer Fort Jackson, Cape Colony', made chutney and sold it in the family's general dealership in Fort Jackson near East London. Her daughter Amelia married Mr HS Ball, moved to Fishhoek and continued making it to the same recipe. When her husband died, Amelia, in competition with her sister Florence and brother Harold, who continued making Adkins chutney, started producing up to a million bottles a year.
On her death, the Mrs Ball's brand was sold to Brooke Bond Oxo, now Unilever. But Mrs Adkins' great-great-grandson, Desmond Ball, has received the original recipe because 'it doesn't taste the same anymore'. It's sold as Amelia's Chutney in food markets around Cape Town.
Peri-Peri Prawns
©Jacques Marais
Chillies are versatile and go great with prawns.
The Malays brought their sweet, spicy dishes to our shores, the Indians their curries, and fishermen brought prawns back from Mozambique to, yes, throw on the braai. Portuguese restaurants serve a plate piled high with fiery-red shellfish and chips, dripping with chilli-infused olive oil. This has become a mainstay of South African eating out.
The Eskimos would rate how cold a night was by how many dogs they needed to sleep with,a three-dog night was the coldest; With peri-peri you judge how good it was by how many serviettes you needed - a three- serviette platter is pretty hot, but five is tops.
Bunny Chow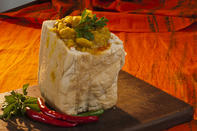 ©Roger de la Harpe
A Durban icon, the Bunny chow.
If ever a food could define the city of Durban, it would be bunny chow — it was there during the apartheid years that the 'dish' originated. To make bunny chow, a half-loaf of bread is hollowed out and filled with curry, which is bound to be in Durban, home to the largest population of Indian descendants outside of India, then the scooped-out bread is plonked on top as a lid. You eat the bunny chow as it is --- no knife or fork, no plate — using: the 'lid' to sop up the curry.
SA's Favourite Chicken
Forget McDonald's, help South Africa take over the world by fast-fooding at Nando's for the best chicken. There's one in almost every large town.