The Food Dialogues were conceived of and produced by the Oranjezicht City Farm (OZCF) as a 10-part series of talks on the food system in Cape Town.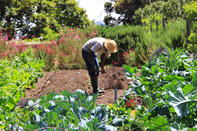 ©Marinda Louw
Sessions brought together a wide range of speakers involved in shaping the food system, providing an opportunity for food growers, academics, activists, writers, nutritionists, food lovers and anyone interested in sustainable approaches to engage in key issues intimately connected to the food we eat and the future of food in Cape Town.
Science writer Leonie Joubert, joined the team to draw out the narratives, extract the themes expressed by the various speakers, and unpack opportunities and ideas that emerged as trends through the discussions. The aim is to inform future food dialogues, workshops and potentially a symposium on the food system in Cape Town.