Owning your Food
'Placemaking' is the idea of building communities around places. It's a way of planning and using public spaces that promotes wellbeing and health in a community. Food has the ability to be at the centre of placemaking.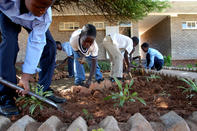 ©Eric Miller
Putting gardens and vegetable patches back into public spaces will have a positive impact on the local community.
'Places are already there,' says Zarina Nteta of Cape Town Partnership. 'We can't necessarily make places and we don't want to entrench social, economic or cultural divides any more than are already there. What we bring to those places, is what matters. It can be a political act - how do we use and plan around 'place' in a way that challenges or overcomes the apartheid-formed spaces?'
Putting food back into public spaces is a political act. Planting fruit and nut trees in public spaces, and claiming public road verges, traffic islands and allotments for growing food for the community, are all ways of not just getting more fresh produce into our cities but changing attitudes towards food, community and public spaces.
The notion of 'food sovereignty' is as much about making sure that people have access to healthy culturally-appropriate food, as it is about people having ownership of the food system. It's about communities not being the passive recipients of a trading system that has an unequal share of the power to decide who has access to what food, where, and at what cost.
Supporting local producers, informal traders and other links in the food value chain is about doing just that – giving local communities food sovereignty.
Farmer's Market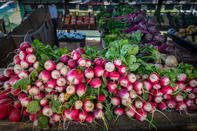 ©Chris Daly
Local farmer's markets allow people to source their own healthy, locally grown food.
The OZCF Market Day has taken on the function of a lively new public square. Many people enjoy hanging around the OZCF farmers' market, whether they're there for a bunch of carrots or a head of lettuce, says OZCF's Sheryl Ozinsky. There's a lot more going on than the exchange of money for food at community markets. Someone might be collecting signatures on a petition. Another playing music. Children darting about.
Farmers' markets put the relationship between consumers and producers on a new, more neighbourly footing, enriching the kinds of information exchanged in the transaction, and encouraging customers to regard their food rands as 'votes' for a different kind of agriculture and, by implication, economy. It seems that people get more satisfaction from eating when it's not just affordable, but has ethical and political value as well.
Promoting farmers' markets throughout the city will help to support local producers, create a space for community engagement and promote access to nutritious food. This also recognises the legitimacy and importance of the informal food system.