Circular Movement Needed
A third of all food produced around the world goes to waste. In some wealthier communities, it's as much as half. That's not just a waste of calories and nutrients in the food, but it's a waste of all the environmental resources that went into growing that food, and of the waste-absorbing capacity of the environment when that food rots.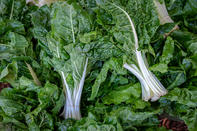 ©Chris Daly
Food that has gone off must be fed into a recycling system to reduce waste.
At the same time, one in five South Africans go hungry every day. When food and other organic waste goes into a landfill, it rots in the confines of this low-oxygen space and releases the potent greenhouse gas, methane. All the nutrients in that 'waste' are also lost. If food that is still safe to eat gets thrown out by either retailers or private households, that's food that could otherwise be used by people struggling to access food.
If we want our cities to be more resilient, we need to change the 'linear' movement of food to become 'circular': food 'waste' coming out the bottom end of the food value chain must be fed back into the top through appropriate recycling.
Reducing Waste Locally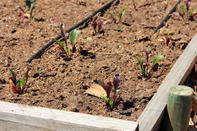 ©Marinda Louw
Rotten vegetables can be made into compost that can be used to fertilize new crops.
The Western Cape Government recently launched the Food Forward project under the 110% Green Initiative. The aim is to address food waste and loss by reducing inefficiencies within the food value chain.
Part of the process is to take tours across the province to highlight issues along the food value chain. These will include organisations that are actively involved with food waste issues, such as industry associations, research institutions, agri-producers, food processors, distributors, retailers and waste handlers.
'The idea is to get businesses and organisations to commit to tackle an aspect of the food waste problem, whether this is a reduction of food waste, an increase in their own food waste responsibility, or simply adding a piece to the food waste research puzzle,' explains the Province's Nicholas Wiid.
'Through visiting certain municipalities, we hope to learn from others, thereby mobilising stakeholders in the food space to adopt more efficient systems. One way to do this would be to link stakeholders with each other, in order to minimise food losses, wastage and sending valuable compostable material to landfill.'
Food banking is a solution to the environmental and ethical problems associated with food waste, explains FoodBank's Kate Hamilton. The FoodBank is a global network that rescues edible food before it's thrown away and distributes it to people in need.
'We try to fill the gap by taking food from where there is an excess, to where there is a need. We provide the logistics behind that.' The recently launched Food4Thought is a community-based networking platform that links up Cape Town businesses with non-governmental organisations that help with feeding people in need.