Felicia Mfamana has lost various loved ones to HIV/Aids, including her son, grandson and daughter. She shares her pain and coming to terms with her loss through the help of her friends at the GAPA (Grandmothers Against Poverty and Aids) group.
'A Bad Cold'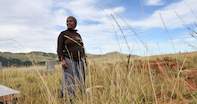 ©Eric Miller
I had seven children altogether, five girls and two boys. My daughter Nonkosi and my grandson Mihlali had been staying with me since his birth two years before. I was like a mother to him and I loved him very much. At five o'clock in the morning, he started crying. I tried to comfort him and he seemed to quieten down a bit, so I put him down to sleep, then went off to catch the taxi to Pinelands in Cape Town. But when I returned, he was still and would not respond. He had passed away.
I called my neighbour, a very good man named Peter Nqoboka, who felt Mihlali's pulse and said, 'He has gone.' He and his wife sat down with me to pray. When Nonkosi came in a little later, I couldn't bring myself to tell her. She went to him and said, 'Mom, Mihlali is very cold.' Then, of course, I had to tell her why. Mihlali had been HIV positive since he was born, but I knew nothing about HIV so I didn't understand why he had been getting sick.
A little while after Mihlali's death, my eldest daughter, Nomanani, phoned me from the Transkei to say that Nonkosi - Mihlali's mother - had a bad cold and couldn't eat properly. Nonkosi had said she was positive, but I still didn't know what this 'positive' meant. She came to Cape Town to get treatment, then said she wanted to go back home. I thought she was getting better and didn't want to force her to stay, so off she went. I was so very, very sorry when she passed away in the Transkei. My other daughter, Noxolo, passed away from HIV as well.
Needing Help to Stand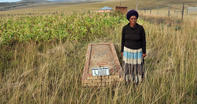 ©Eric Miller
When the wife of my eldest son, Phikolomzi, sent me a letter saying he had TB, I went to the Transkei to see him. He was very thin and needed help even to stand up. He could not use one of his arms, because he had had a stroke, and for some reason I never understood, he could not talk at all. I stayed there for July and August and came back to Cape Town in September. That was the month he died. Those years, the years of my children and my grandson passing away, were terrible years for me.
Strong and Grateful at GAPA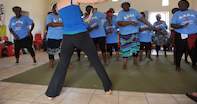 ©Eric Miller
When I first went to Grandmothers Against Poverty and Aids, I cried and cried, thinking and talking about what happened to my two daughters, grandson and my son. The other grandmothers understand, because the same thing has happened to them. We pray together there and God helps to calm us down about our children having passed away. Since I started going to GAPA I've realised that Aids is a disease for everybody, not just our families. Then we feel strong and are grateful that we ourselves are healthy. I go to GAPA on Tuesdays, for the dancing class. We have breakfast and tea before dancing, and afterwards we have lunch. Then we knit, crochet and sew beads.
On Wednesdays, there's a support group in the house of Mrs Mbedla, in our street. Seventeen grandmothers come, from Sections A, B, C and D in Khayelitsha. There are so many gogo's here who need GAPA. I've even stood up in church and urged the other grandmothers to come to GAPA, because it helps us so much.By
Jo-Anne Smetherham