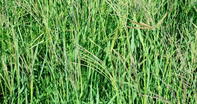 ©Pannar Saad
Smuts finger grass is a summer-growing grass, suitable for grazing, hay or silage.
Grasses, also called monocot or narrow-leaf plants, are an important component of pastures. When mixed with legumes in pastures, grasses can reduce the risk of bloat when animals graze the pasture. Grasses also limit weed growth, can help pastures survive winters and provide good yields. A wide selection of grasses for pastures means that there is a grass suitable to almost any climate or management style.
Grasses can be divided into tropical or summer-growing grasses and temperate or cool-season grasses.
Ask any seed company for guidance on the best grasses for pastures to grow in your area and on your soil type.
Summer-growing Grasses for Pastures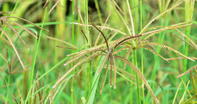 ©Pannar Saad
Fast-growing Rhodes grass is resistant against nemotodes and often used as rotation crop with pineapples or tobacco.
Grasses that produce its highest yield and growth in the warmer summers are called summer-growing grasses and are usually planted in the warmer regions of South Africa.
Tuft-forming summer grass
These grasses are not suitable for heavy grazing and have low digestibility. Digestibility is the amount of nutrients an animal can utilise from the pasture.
Examples of tuff-forming grasses are weeping love grass (Eragrostis curvula), the permanent pasture and extremely drought-resistant buffalo grass (Cenchrus cilliaris) and the finger grass species such as Smuts finger grass (Digitaria eriantha).
Weeping love grass is suitable for well-drained acidic soil with a pH of 4 - 7. Buffalo grass prefers soil pH 7 - 8, grows on sandy soil in the wild and is sensitive to aluminium and manganese. The tasty Smuts finger grass grows on shallow rocky soil and sandier soils with a pH of 6 - 7 but struggles on low-fertile soils.
Fast-growing Rhodes grass is well-adapted to a wide range of conditions and produces high yields from its first year of planting. Ideally mixed with Smuts finger grass.
Creeping grasses
These grass types recover well after heavy grazing but, typical of a summer-growing grass, it has a low digestibility.
Examples of creeping grass types include kikuyu - which prefers fertile soils - as well as the drought tolerant and soil-binding bhai grass or the versatile star grass (Cynodon species).
Winter-growing Grasses for Pastures
©Pannar Saad
A ewe and her twins grazing on Westerworld ryegrass pasture.
Temperate pasture plants grow better during cooler seasons such as spring and autumn. These grasses stay green during winter, can tolerate frost and are often more digestible than summer-growing grasses.
Tuft-forming temperate grasses
Choose the right grass for the grazing intensity of your animals. For example, perennial ryegrass can tolerate heavy grazing, but cock's foot grass grows better when lightly grazed.
Italian ryegrass may be grazed for longer than the Westerworld ryegrass. Ryegrass as a pasture plant needs nitrogen and lots of water.
Tall fescue is ideal for very wet soils and marshlands and can tolerate acidic soils.
Cock's foot (Dactylis glomerata) is very tasty. This grass can withstand heavy grazing and grows well in southerly slopes and shaded areas, ideal for planting in vineyards and orchards.
By Marinda Louw