Married to Politics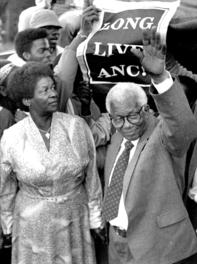 ©Eric Miller
Albertina Sisulu was not involved in politics until she met Walter in 1941. Even then, she only attended meetings as a support to him.
When they got married, former president Nelson Mandela told her, "Albertina, you have married a married man - Walter married politics before he met you."
After they were married she became actively involved in politics. She joined the African National Congress (ANC) Women's League and took part in the Freedom Charter launch in the same year.
In 1954 she became an executive member of the Federation of South African Women (FEDSAW), and became its Transvaal President in 1963.
She would eventually became its National President. The Sisulu home became a central meeting place for get togethers that largely shaped the ANC.
Years of Hardship
1952 brought the Defiance Campaign, a collaborative effort of the ANC, South African Indian Congress and South African Communist Party. The apartheid government responded to this with the Suppression of Communism Act, which saw the arrest of 20 people including Albertina's husband, Walter.
Over the next few years Walter was arrested multiple times and Albertina was left to suffer hardships while being harrassed by police for her involvement with the ANC Women's League and FEDSAW. She said the following during Walter's imprisonment:
"All these years I never had, you know, a comfortable life. Because from 1958 when I was in jail, that was the beginning of my life in and out of jail. Fifty-eight I was in jail, sixty-three I was in jail with my first son who was seventeen years old. We were arrested because of the Suppression of Communism Act, which meant ninety days without trial. So we went to jail, and when we completed the ninety days we were released, and after that he was harassed by the police. So I felt that he must leave the country. So he skipped the country in sixty-three. Sixty-four, after the sentence of [Walter] for life imprisonment, I was banned for five years. That banning order meant that I [couldn't] attend gatherings. I [couldn't] go near the educational centres, I [couldn't] go near the courts. But after five years I was given another ten years` house arrest. That was the worst. Now I am alone and the man is in jail."