The Basotho have been identified as part of a larger Sotho cohort, comprising three broad divisions: Basotho - Southern Sotho, Pedi - Northern Sotho, and Tswana - Western Sotho.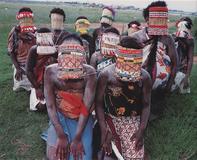 ©Dr Peter Magubane
During Basotho initiation, female initiates wear beaded masks.
The Basotho used to live throughout the Highveld area but, since the mid 1800s, have been most closely associated with Moshoeshoe's independent kingdom of Lesotho, previously Basutoland, whose territory today is an enclave within South Africa's borders.