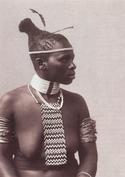 ©J E Middlebrook
Studio photograph of a married woman taken by J.E. Middlebrook, in the Colony of Natal, south of the Zulu Kingdom, probably in the 1880s.
It is commonly assumed that African beadwork traditions emerged through trans-continental trade relations that led to the importation of glass beads to West Africa as early as the 4th century AD.
In fact, the use of indigenous materials such as marine shells, stone, seeds and ostrich eggshell long predates these trade relations, attesting to the importance of adornment practices that have underpinned social and political relations, and have in many cases played a critical role in ritual practices, since prehistoric times.
During the Iron Age, some African communities also began manufacturing iron and copper beads. There is evidence that these iron technologies first emerged in East Africa as early as 500 BCE.