Young Zulus in Dancing Costume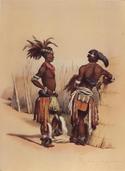 ©Angas
Image George Angas Young Zulus in Dancing Costume, 1847
According to the artist, George Angas, the two young men depicted here, who were from Umlazi on the outskirts of Durban, were dressed for a 'marriage-dance'.
In addition to loose strands of beads, the young man on the right wears a series of grass ropes joined together intermittently with vertical strips of beadwork.
Known as amabijo (sing. umbijo) in reference to the technique used to make beadwork items of this kind, these beaded ropes of grass (or, later, cloth) became increasingly popular after the mid-19th century.
Women in Colonial Natal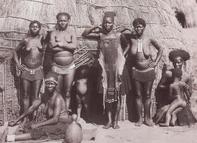 This photograph was taken on one of the African 'reservations' established in Natal in 1846-47, a decision by the colonial government that led to the relocation of nearly 80 000 people.
The photograph is notable for the variety of beadwork patterns and colours worn by the women, whose beaded garments include necklaces and aprons.
In addition, the married woman seated to the left wears a beaded fringe, umnqwazi, around her head, a sign of respect to the ancestors, while another has a long pregnancy apron known as an umbodiya, decorated with brass balls.
Beaded Necklaces From the Colony of Natal

©Heini Schneebeli
Late 19th century Glass beads, fibre, and brass clasp Width 20 cm Zulu-speaking communities commonly upheld long established gender roles. In keeping with these roles, men produced baskets, but beadwork was made by women.
Married women usually produced the beadwork worn by their husbands and younger children, but post-pubescent girls generally made their own beadwork, as well as the beadwork worn by the young men who courted them.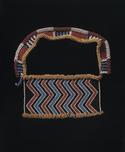 ©Heini Schneebeli
Late 19th century Glass beads and fibre Height: 15 cm; Width: 25 cm (9 ¾ in.) This necklace has a complex beaded strap framed by intricately worked bead clusters.
It is more than likely that it would have formed part of a larger set of similarly decorated beadwork panels, including leg ornaments and aprons, if intended for a female wearer.
Young men also wore beadwork items around their lower legs and waists on festive occasions, but the beadwork garments worn by married men were generally less elaborate, consisting mainly of beaded neck panels.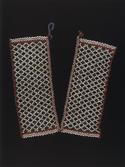 ©Heini Schneebeli
Late 19th or early 20thcentury Glass beads, fibre, and brass beads Height: 23 cm; Width: 10 cm. The use of colour and pattern in beadwork panels attests to principles of design that rely on repeating simple geometric shapes.
The extraordinary artistry of these panels is revealed through the consistent, but complex rhythms achieved by combining different colours, in this case, white, red, black green, pink and blue.

©Heini Schneebeli
Late 19th or early 20th century Glass beads, sinew and brass stud Height 14 cm, Width 28 cm Colour is sometimes used to disrupt the geometric rhythm of a beadwork panel.
In this example, the introduction of red triangles, outlined in white, serves both to animate the design, and to accentuate the transition from blue triangles on the left to white ones on the right.
By
Professor Sandra Klopper