Missionary Myths, Scholarly Concerns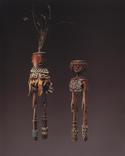 ©Heini Schneebeli
It was only in the second half of the nineteenth century that public collections of African art began to be amassed in response to the emergence of Anthropology as a discipline.
Researchers from the global north used figurative carvings and other artefacts to map the social lives and ritual practices of indigenous African communities. Objects were also acquired as souvenirs by explorers and colonial administrators, while missionaries used them to propagate myths about the supposedly uncivilized practices of the people they encountered in Africa and elsewhere.
Early twentieth century artists like Picasso and Matisse collected figurative carvings that challenged the aesthetic norms of European sculptural traditions.
But collectors like these generally confined their efforts to acquiring carvings from West and Central Africa, accepting the then widespread assumption that Southern African communities produced only utilitarian artefacts like headrests and meat plates.