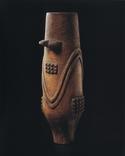 ©Heini Schneebeli
In the early 20th century, local collectors of African art such as the internationally acclaimed South African artist, Irma Stern, travelled throughout South Africa, painting people living in outlying rural areas. In the early 1930s, Stern discovered African carvings for sale at a barbershop in Cape Town.
She later frequented flea markets in London in search of masks and other items of aesthetic interest, and she bought works in Dakar, Senegal, while travelling between Europe and South Africa in 1938. But it was mainly while visiting the Congo in the 1940s, during encounters with groups like the Kuba and Mangbetu, that Stern acquired figurative carvings and other objects of artistic interest.
Returning to South Africa, Stern often displayed these acquisitions in exhibitions of her own work, leading in 1942 to the French archaeologist, Abbé Breuil, pleading the case for the establishment in South Africa of a pan-African ethnographic museum with a collection such as hers as the nucleus.
Despite Stern's interest in African art, local South African art forms were conspicuously absent not only from her own exhibitions, but also from an exhibition of her collection of African and European 'Christian' art held at the South African National Gallery in the mid-1950s.
German-Jewish Refugees as Collectors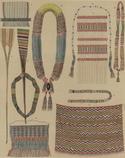 ©Muller and Snelleman
Other collectors, such as the refugees, art historian Maria Stein-Lessing and journalist Peter Staub, both collected artefacts in the field, especially beadwork. But it was not until the 1960s that private collectors began to contribute significantly to building an understanding of the wealth and complexity of the art forms produced by South Africa's rural communities.
Mainly based in the global north, these collectors initially bought artefacts at flea markets and charity shops in England, where many families owned Southern African material obtained as souvenirs by forebears who had fought either in the Anglo-Zulu War of 1879 or the South African War of 1899-1901.
Notable in this regard was the South African born lawyer, Jonathan Lowen, who studied for a law degree at the University of the Witwatersrand in the mid-1960. The son of German-Jewish refugee, he started collecting Southern African works because he felt homesick after moving to London in the late 1960s.
While this interest was shaped by the example of Lowen's father, who bought a Luba Shankadi headrest from the Congo at a 1943 exhibition held in Johannesburg's Joubert Park, Lowen went on to amass a major collection of art from rural South Africa. A substantial portion of this collection was purchased and repatriated in the 1980s.
Changing Perceptions
As late as the 1970s, the few American, British and European dealers who had examples of what they normally described as 'Zulu' household objects and weapons in their shops, made little if any attempt to showcase this work, largely because there was virtually no market for it.
But once it became clear that collectors were prepared to pay comparatively high prices for items like staffs and headrests, Southern African carvings began to appear increasingly at Sotheby's and Christie's auctions.
According to Jonathan Lowen, however, he had virtually no competition at these auctions before the arrival of the American collector, Jerome Jos, who first started bidding against him some time in the late 1970s.
Kevin Conru and Terence Pethica
Other major collectors of Southern African art emerged in the course of the 1980s, among them those of Kevin Conru and Terence Pethica, which are showcased here. Items from other private collections have also been included, and images such as old photographs are used to enrich the historical record.
In The Art of Southeast Africa from the Conru Collection (5 Continents Editions, 2002), Conru indicated that his 'love for fine wood' originated from his 'days as a double bass player'. A founding member of the Natal Philharmonic Orchestra, Conru revisited South Africa after completing a Museum Studies degree in London, collecting artefacts in the field.
But most of the works in his collection emerged from 'cupboards and attics' in Britain, where they had languished 'because they weren't valuable enough to sell'.
Pethica, whose collection appeared in The Art of Southern Africa (5 Continents Edition, 2007), was also motived in part by his attraction to the 'life' and feel of objects honed from wood.
Originally a collector of old clocks, he was fascinated by the concepts and values that underpinned the production of art in Africa, noting that 'For a carver to create an object that would be discarded once it had served its purpose' was a new experience for him 'to grasp and admire'.
By
Professor Sandra Klopper