National Animal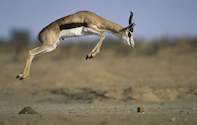 ©Nigel Dennis
Springbok/Springbuck - Antidocras marsupialis
The springbok derives its name from the pronking action (jumping display) that is typical of this antelope. Both male and female springboks have horns, but generally, the rams are thicker and rougher. The springbok is found naturally in the Free State, North West Provinces, in the Karoo and along the West Coast of South Africa.
It has adapted to live in dry, barren areas as well as on open grass plains. They graze and browse and can go without water, as they receive their moisture from the succulent leaves that they eat. Where there is water available, however, the springbok will take a drink.
Springbok are herd animals that move in small groups during the winter months and aggregate into larger herds during the summer months. They breed throughout the year, and lambs are born after a 6-month gestation period. Height 75 cm weight 40 kg.
National Bird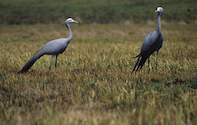 ©Peter Delaney
Blue crane in grassland, Balgowan, KwaZulu Natal
Blue Crane - Anthropoides paradisia
The elegant blue crane is almost only found in South Africa. It is a light-blue grey colour, with a long neck ending in a spherical-like head. It has long legs and elegant wings which sweep down to the ground. Blue cranes feed on insects, reptiles and seeds. They lay their eggs on the bare ground, close to water.
Their habitat is open grasslands and Karoo-like plains. Blue cranes are commonly found in the Karoo, KwaZulu Natal and the Highveld. They are often seen in pairs or small groups. Blue cranes stand about one metre tall are often silent but have a distinctive rattling croak and high pitched call, which can be heard from quite a way away.
National Fish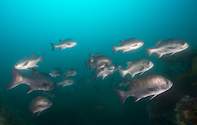 ©Jean Tresfon
Schooling galjoen, Struisbaai
Galjoen - Coracinus capensis
The galjoen is endemic to South Africa's coastal waters. It is found mainly in shallow water in the surf zone near to shore. Its colour is variable according to the habitat, near rocks it appears completely black whilst in sandy areas, it appears as a silver bronze colour.
In KwaZulu Natal, the galjoen is also known as blackfish or black bream. Galjoen feed on red bait (ascidians), and small crustaceans such as mussels and barnacles. The record size is over 55 cm weighing in at 7 kg, however, the average size is often much smaller.
National Flower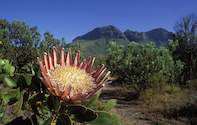 ©Nigel Dennis
King protea, Helderberg Nature Reserve, near Cape Town, South Africa
Giant or King Protea - Protea cynaroides.
Throughout the Western and Eastern Cape areas, basically from the Cederberg to Grahamstown the king protea can be found. The Latin name for this protea, cynaroides which means like-cynara (artichoke), comes from the artichoke-like appearance that the flower heads have. The king protea is the largest flower in this genus.
National Tree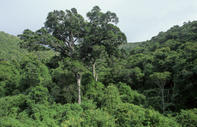 ©Nigel Dennis
Ancient yellowwood trees, Natures Valley, western Cape
Real Yellowwood - Podocarpus latifolius
The ancient yellowwood tree species has been growing in South Africa for more than one million years. It has a widespread distribution throughout South Africa and can be found from Table Mountain, along the eastern and southern Cape coasts, in the Drakensberg ravines, up in the Soutpansberg and Blouberg in the Limpopo Province.
Yellowwoods are tall growing trees, reaching heights of up to 40 metres, with a thick base of up to 3 metres in diameter in forests. However, when growing in unsheltered areas such as the slopes of Table Mountain they appear as short, bushy and gnarly trees. The bark is khaki-coloured turning more grey as the tree ages, which peels off in strips as the tree matures.
The crown of the tree is small in comparison with its great height. The fruit looks similar to a pine cone, but are white, light green or sometimes pink in colour. The yellowwood tree produces both male and female fruit, the female fruit cone looks similar in shape and colour to a cherry.