Sodwana Bay is situated in one of South Africa's Marine Protected Areas. Located approximately 500 kilometres north of Durban on the north coast of KwaZulu-Natal and approximately 120 kilometres from the southern border of Mozambique.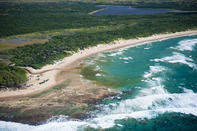 ©Roger de la Harpe
Aerial view of Sodwana Bay and iSimangaliso Wetland Park.
The climate on the north coast is mostly tropical with mild temperatures in winter becoming hot in summer. Rain is frequent during the summer months.
Summer on-land temperatures: 20-35°C.
Winter on-land temperatures: 18-25°C.
There is a shop and a petrol station in the Parks Board as well as similar conveniences just outside Sodwana in Mbazwana. There are local dealers, a grocery store and a hardware shop as well as a post office. Diesel and petrol are available in Sodwana and Mbazwana.
Malaria is a small risk, the taking of the appropriate prophylactics is suggested. Speak to your physician or pharmacist for the best options. Ask the locals about drinking the tap water, but it is advisable to rather drink bottled or purified water. There is a general practitioner in Mbazwana and a clinic/hospital at Mseleni. A first aid room at the Parks Board in Sodwana is available to treat minor ailments.