Diving and Snorkelling
Sodwana Bay in Maputaland has several world-class coral reefs that take a thrilling rubber-duck ride to reach. Seven Mile Reef is the most outstanding; it drops off to 24 metres with pinnacles and mushroom-like coral formations.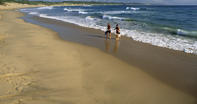 ©Roger de la Harpe
Beach vista over Sodwana Bay.
Go in summer when big game fish cruise in, including lots of those chaps with big jaws and gnarly teeth. People who've dived the world over gravitate back to Sodwana because it's amazingly different. The ocean is wilder than most equatorial coral reefs, and then there's the launch through the breakers and return landing on the beach, the African vibe, and the South African 'can do' attitude.
The world's southernmost coral reefs stretch down to Sodwana Bay, so it's an excellent place for children to learn to snorkel and have the chance to see the marine life. The sandy beaches are great for kids to play on and when the beach has become a little too much, there are a few trails through the indigenous forest.
You can snorkel out along Leven Point to Quarter Mile, Stringer and Two Mile reefs, then visit the bigger reefs at Five, Seven and Nine miles. At any of the 17 reefs in the area, you can see everything from tiny porcelain shrimps to whale sharks. Visibility, measured at 10 m down, averages 15-20 m, sometimes up to 30 m. Or do a 'big blue' dive along the continental shelf drop-off — simply dizzying.
Fishing for Billfish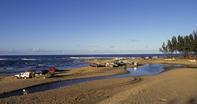 ©Roger de la Harpe
A morning on the Beach near St Lucia.
Sodwana Bay is known by fishers around the world for the huge black and striped marlin. They're a challenge most fishers can't resist. Every boy once dreamed of the day he would stand next to a pole gantry at the landing beach of Sodwana Bay with a huge, lifeless marlin hanging there. But that was back when no one thought the sea would ever stop giving and that it was every boy's and man's right to go fishin' and huntin'.
Then came modern times, and a whole new set of rules: you can't eat an entire marlin, so you catch it and release it. Then, using light-tackle rods and lures in place of light bait, fewer giant black marlin were caught, but plenty more, albeit smaller, blue marlin, striped marlin, broadbill and sailfish were. It's called giving nature a fair chance, and it's really the only sporting way catch a billfish.
Best Beach in South Africa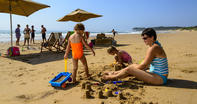 ©Roger de la Harpe
Guests from Phinda Private Game Reserve near Sodwana.
Everybody who goes to Sordies in Maputaland is so busy scuba diving and bill fishing they fail to notice they're doing it on one of the best beaches in the world. The secret is in the bay. All bays begin with a protective, usually rocky, headland. Then sand collects in the relatively calm lee in what mathematicians call a logarithmic spiral pattern, the same mathematics that explains the shapes of just about all sea shells.
The rocky projection at Sodwana Bay is Jesser Point. Where it descends below water level is the very beginning of the coral reefs for which the place is so famous. Indeed, the beach is just about the best place for family fun on our whole coast. There's a radical break in front of the lighthouse, and a regular left break in the bay, which has been known to barrel on occasion.
Sea Turtles
©Roger de la Harpe
A Leatherback turtle covering her nest after laying her eggs at Sodwana National Park.
From mid-November to February, keep your eyes open for the leatherback turtles that lay their eggs on Sodwana's beaches. When the sun approaches the zenith of annual migration, an irresistible instinct in female loggerhead and leatherback turtles, bringing them up on the coral-sand beaches along the Maputaland coast to lay their eggs.
Head out at night to watch these massive marine reptiles in their primeval act of maternal labour: painstakingly make their way up the beach, laboriously digging a metre-deep hole above the high water mark, laying their billiard-ball size eggs, filling the hole and concealing spot. It's hard to refrain from cheering when mom gets back to the foam line and paddles out into the inky-black ocean.
By
David Bristow