Top Dive Destination
The Destination: As far as dive destinations go, Sodwana Bay rates right near the top of the pile, Top 10 in the world, nogal.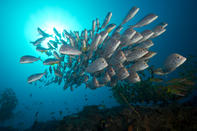 ©Jean Tresfon
A school of Slingers at Sodwana Bay.
Untouched Coastal Paradise
The Experience: Sodwana is as untouched a coastal paradise as you will find along Africa's east coast, and its dive sites are justifiable world-famous. Reefs are named according to their distance from the Jesser Point launch site, and scuba enthusiasts from around the world travel here to dive the deep-water drop-offs, bizarre pinnacles and rich coral reefs characterising sites like Two-mile, Five-mile and Seven-mile Reef.
Drift diving is the name of the game in water with an average temperature of 23°C, maximum 28°C, from March to April. Temperature drops to a minimum of 20°C between August and September. Getting There: GPS Coordinates Jesser Point – South: 27° 32' 431" East: 32° 40' 772"
By
Jacques Marais