Quarter Mile Reef
Average depth: 9 m
Maximum depth: 12 m
Quarter Mile Reef is located just outside Sodwana bay. This is where the pregnant ragged-tooth sharks spend their time from December to March, before leaving for Aliwal Shoal.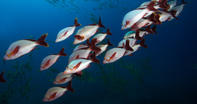 ©Jean Tresfon
Red snapper fish.
Ragged-tooth sharks are a big attraction for scuba divers and aren't nearly as aggressive as they look. Quarter Mile Reef has huge rocky boulders scatter on the ocean floor. There are various large sandy patches in and around the reef, and as a result, this reef can only be dived on days when the sea is flat and there is no strong current or surge.
Quarter Mile is buzzing with activity and marine life includes big potato bass and honeycomb moray eels. There are orange wall sponges, bearded scorpionfish, and various types of nudibranchs in different sizes.
Angelfish, kingfish, red snappers, goldies and the regular reef fish found in tropical waters are also to be seen here. In some of the overhangs and small caves you will find cleaner shrimps busy in the cleaning station. Majestic green turtles also frequent the area.
Simon's Cave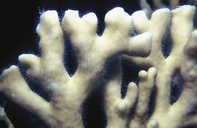 ©Johan Boshoff
White fan coral.
Average depth: 13 m
Maximum depth: 17 m
This reef has overhangs, gullies, ledges and a cave big enough to swim through. The reef also has big sand patches between parts of the reef and has a large quantity of fish life, allowing divers to swim through schools of fusiliers, snappers, and in particular, knifejaws standing guard in the opening of the cave.
Various fish species are found in the area which includes sea goldies, sea breams, damselfish, and royal angelfish. On the outside of the cave is the most beautiful coral life in pastel colours, from peach fleshy coral to yellow sponges, whip coral and everything in between. The hard coral consists of table coral, staghorn coral, plate coral and spiky coral. Various species of nudibranchs in different sizes and colours are regularly seen on the reef.
2-Mile Reefs Wayne's World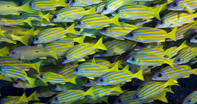 ©Jean Tresfon
Snapper fish.
Average depth: 14 m
Maximum depth: 17 m
This reef only has a few small rock formations, but it is covered with the most beautiful coral. The reef is mostly flat with small sand patches. There is an extensive variety of small marine life on this reef, including schools of spadefish, old-woman angelfish, snappers, nudibranchs, coachmen and fire gobies standing guard in front of their tiny caves.
Pepper eels and geometric morays have also been spotted in this area. The coral life includes huge peach-coloured fleshy coral, anemones, turbinate, plate and staghorn coral.
Pinnacles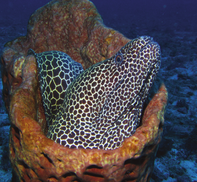 ©Johan Boshoff
Black spotted moray eel in a barrel sponge.
Average depth: 13 m
Maximum depth: 16 m
Pinnacles consists of large underwater rock formations with the pinnacle itself only six metres from the surface of the water. There are also lots of gullies and boulders in this area which are surrounded by sand patches. A variety of hard and soft coral is found on this reef, but in some shallower parts of the reef, some broken coral is found.
This area is coloured by fleshy soft coral, clustered finger coral and various colourful thistle coral. Whip coral and anemones are also found here. Various species of tropical reef fish are found here. Nudibranchs, as well as moray eels, can also be seen lingering about the reef.
Four Buoy
Average depth: 9 m
Maximum depth: 13 m
Four Buoy is situated next to Pinnacles on 2-Mile Reef with boulders and gullies surrounded by huge sand patches.
Four Buoy is almost the central point of 2-Mile Reef. A variety of hard and soft coral is found here with smaller fish species found between the coral and in small crevices. A great array of tropical reef fish, as well as potato bass, nudibranchs and various clamshells, are seen regularly.
Coral Gardens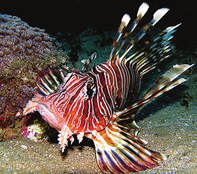 ©Johan Boshof
Lion fish.
Average depth: 12 m
Maximum depth: 16 m
If coral is what interests you, then this is the dive to do. The reef is flat, but thousands of spectacular coloured hard and soft corals are to be seen with a variety of juvenile fish, including wrasse, butterfly, angel, surgeon and lion fish hiding in and under the coral. This is a relaxing, scenic dive for all levels of divers.
Caves and Overhangs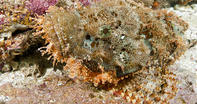 ©Jean Tresfon
Scorpion fish.
Average depth: 10 m
Maximum depth: 15 m
This popular dive site consists of big, blocky boulders covered in coral with sandy patches in between. The excellent light penetration and shallow depth have created a beautiful underwater garden with a magnificent range of coral and invertebrate life.
The marine life encountered on this reef includes potato bass, scorpionfish, shrimps, eels and rays. Short-spine pufferfish, as well as flounders, have also been spotted here. The coral life includes various types of hard and soft corals, sponges and anemones. Tiger cowries and other shells add to the beauty of this reef.
Anton's Reef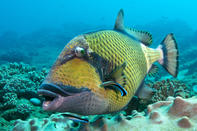 ©Johan Boshoff
Titan trigger fish at a cleaner station.
Average depth: 12 m
Maximum depth: 16 m
This is one of the best dives in Sodwana. On this reef, one usually finds various gullies, a long swim-through and boulders surrounded by sand patches.
Numerous varieties of coral such as fleshy soft coral, table and spiral coral, as well as colourful sponges, are a feature of the area. Arrays of reef fish, like titan triggerfish, are found on Anton's Reef with cleaning stations in the caves and under the overhangs. Various rays and eels are also found regularly.
Chain Reef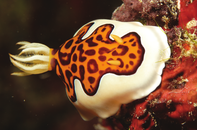 ©Johan Boshoff
White Nudibranch.
Average depth: 14 m
Maximum depth: 16 m
This is a dive at a mostly untouched reef where you will find marine life that isn't commonly seen elsewhere. The area is quite flat but still has some caves and overhangs.
Guitar sharks are spotted in this area amongst tropical reef fish. Round ribbontail rays and tropical flounders are also seen on the sand patches between the coral reefs. Divers will encounter different kinds of nudibranchs and peacock mantis shrimps.
Stringer Reefs
Average depth: 11 m
Maximum depth: 16 m
The reef is divided into two parts by a large sandy patch, and when the visibility is good, you can see the one part from the other. The one is a large, rounded reef with scattered rock surrounding it and the other a smaller, rounded reef with steep drop-offs on the one side and quite a few ledges and caves on the other side.
Marine life encountered on the dives includes green turtles, electric ray, bearded scorpionfish, potato bass, boxfish and rock cod. Reef fish such as parrotfish, damsels and coachmen also frequent this area. The coral on these two parts consists of more hard than soft coral. Cleaning stations are often seen with various types of cleaning shrimps ready for duty. Big cushion starfish and feather starfish are also plentiful. juvenile angelfish are common on this reef.
By
Johan Boshoff