Wooden Boardwalk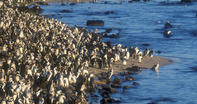 ©Roger DelaHarpe
When visiting Robben Island, visitors are allowed to file past the prison cells at prison and take pictures, but photographs simply cannot express the claustrophobic confines of the cell. In fact, it is hard to fathom how anyone could emerge from this enclosed space with such an open heart, as many political prisoners did.
The great Nelson Mandela and the other prisoners truly epitomise the indomitable spirit of South Africa, and we are lucky beyond imagining that they came out of jail with a positive outlook. It's also interesting to note that many of the first political leaders of a democratic South Africa went from a prison into parliament, rather than the other way around. After a ritualistic pilgrimage to The Cell, visitors are escorted out of the prison by their guide and directed back to the harbour, where they will catch the ferry back to Cape Town.
In the short time you still have available, you can either browse the quayside shop, or you can take a hurried stroll along the wooden boardwalk, which offers views of the penguins frolicking at the harbour's edge.
The ferry ride back to Cape Town is just as visually memorable as the ride out to the island. It is also a good time to sit back and reflect. Different people are bound to have different reactions to their time on Robben Island. Some may be pensive about their experience, others in awe of many lives the island has lived.
Very Emotional Journey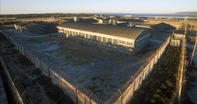 ©Roger DelaHarpe
The Robben Island tour remains an important rite of passage that should be undertaken by all South Africans, and all citizens of the world. Even if you are only attracted by the celebrity of Mandela, try to open yourself up to the whole experience. It is a very emotional journey.
Once back at the Waterfront, the myriad delights of Cape Town beckon once more, and the glories of a liberated South Africa are yours for the taking. But, before you dance into the clear light of our current democracy, spare a thought for the past.By
David Fleminger