Maloutswa Bird Hide
The potential for birding in Mapungubwe is endless. The park is located at an environmental cross-road and any number of bird species could turn up. It is thought that the region contains around 400 species.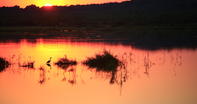 ©Jacques Marais
Maloutswa bird hide is built on the edge of an extensive waterhole in the western section of the park. It is situated in a flat belt of riverine woodland and arid thornveld, quite different to the rocky topography around Mapungubwe hill.
The land around the hide was badly degraded, but a natural ecosystem is slowly being coaxed out of the rehabilitated farmlands. The hide is good for game and bird watching. It is located close to the Limpopo Forest Tented Camp.
By
David Fleminger