The Game-Watching Obsession
Be warned, the Kruger National Park can make people go crazy. The game reserve has a strange power which transforms normally mild-mannered accountants into binocular-bearing, bird bothering boffins! Nice, respectable German tourists just have to enter the Lowveld and they become blood-ravening beasts, baying for a lion kill.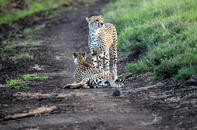 ©Karl Svendsen
Cheetah (Acinonyx jubatus).
While formerly considerate husbands and mothers often force the entire family to sit in a hot car for hours, waiting for a wild dog at a waterhole. Yes, game spotting can become an obsession. If you don't believe me, just witness the queue of cars that line up inside the camp gates every morning, waiting for opening time.
I know of several people who wake up hours before the sun rises so that they can be the very first in line, as if they are trying to buy tickets for a big rock concert. Then, as soon as the gates are flung open, they race out into the murky dawn with their guidebooks at the ready, hoping to be the first to spot that elusive cheetah.
By
David Fleminger