The Kruger Park 'Twitchers' Circle
Bird watchers can spend an entire day driving ever-so-slowly through the reserve with their binoculars pointed to the sky, trying to catch sight of the lesser-spotted twitterfinch, or something like that.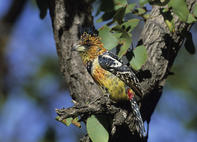 ©Nigel Dennis
Crested Barbet (Trachyphonus vallantii), Kruger National Park.
Over-eager birders, also known as 'twitchers', will have a field day in the Kruger National Park, with over 500 local and migrant species having been recorded in the reserve. So, if you are looking to get some 'mega-ticks' or some 'lifers', bring along the bird book and hit the road. You can be assured by several avi-tourism experts that you will not be disappointed. If you are interested in learning more about birding, there are several excellent books on the subject and well-informed guides can be hired to escort you through the reserve.
Seeing Through the "Hides"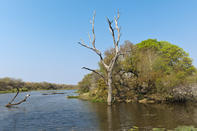 ©Roger de la Harpe
View from Lake Panic Bird Hide, Sukuza, Kruger National Park.
There are about a dozen bird/game-viewing hides in Kruger National Park and several more are earmarked for construction if sufficient funds become available. There are also in-camp hides at Bateleur, Punda Maria, Sirheni, Talamati and Tamboti. Private hides have been built at Letaba for the exclusive use of guests at the Fish Eagle Guest House, and at Shingwedzi for visitors staying at Rentmeester Guest House.
The hides are usually situated on a river bank or alongside a waterhole, and this means that almost anything can turn up during the course of the day. Hippo and crocodile are resident at most hides, as are a large selection of water birds such as herons, fish eagles, storks, kingfishers and crakes. Leopard sightings are also quite common, so pack a lunch and spend some time secreted away in one of the hides. You'll be amazed at how much you can see if you stand still for a while.
There are no toilets at most of the hides, so do the necessary evacuations before you leave the camp. If you find yourself in a spot of bother, don't panic because most of the hides are located close to rest camps or picnic sites, where you'll find the necessary ablution facilities.
Most of the hides are designed to be accessible to people in wheelchairs, but some of the older hides were built before this became a consideration. In particular, Kanniedood is situated up a ladder, while people with mobility difficulties may require assistance at Lake Panic and Matambeni.
Keeping Noise Levels Down
If you are going to enter a hide, please be aware of proper hide etiquette. Remain as quiet as possible when exiting your vehicle and walking towards the hide. Do not walk outside the enclosed area and do not approach the waters' edge. Remember that this is a Big Five Reserve and there is always the danger of predators in the area.
Game rangers also do regular patrols of the Bird Hides to ensure that these rules are enforced. Once inside the hide, keep your voice as low as possible as any kind of commotion could scatter the birds and game, much to the consternation of your fellow hidees. Conversation should be kept to a minimum and don't drop things on the wooden floors!
Photography is a popular activity at the hides, so bring along your camera and zoom lens and get in on the action. However, you might want to prepare yourself for a bit of lens-envy, as some of the pros have enormous equipment.
Improving The Odds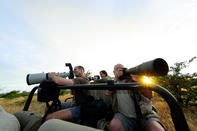 ©Shem Compion
Looking for game by yourself is all well and good, but the expert eye of a trained ranger will definitely enhance your chances of spotting something. All the Kruger National Park camps offer morning and evening game drives, and these are highly recommended. The evening game drives are particularly memorable because they are the only way to witness the nocturnal life of the park.
Private cars are not allowed outside the rest camps after sunset. Game drives are conducted on board 10-seater or 22-seater game drive vehicles in the company of an experienced and armed guide.
Morning drives leave at around 04:30 in summer and 05:30 in winter. Night drives leave from reception between 17:00 and 19:00. Drives usually last between 3-4 hours. All-day drives are available on request, where guests can hire a vehicle and driver for the entire day.
By
David Fleminger