South Africa's Crown Jewel
The crown jewel of South Africa's reserves is the Kruger National Park, the largest game reserve in South Africa, which has its origins in conservation legislation from 1889.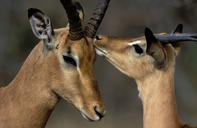 ©Nigel Dennis
Impala (Aepyceros melampus), grooming. Kruger National Park, South Africa.
Kruger, a magnificent wilderness that is home to an astonishing number of animals, is completely open to the public, like all of South Africa's parks, and you can tour and view game from the comfort of your car. Kruger is also at the core of Limpopo Transfrontier Park, which is likely to become one of the largest conservation areas in the world, consisting of about 100 000 square km.
Self Driving Through Nature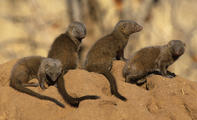 ©Nigel Dennis
Dwarf mongoose (Helogale parvula), sitting on a termite mound. Kruger National Park.
Unlike many other Southern African and all East African reserves, the public area of Kruger National Park is a destination most people see from their own cars. Although game drives with private companies are available from some of the larger rest camps, and most rest camps offer guided night drives, the park is full of private vehicles.
Concessions around the park's borders contain private lodges. Here, you're allowed to drive yourself in your own car - called self-driving - between sunrise and sunset. You need to reserve well in advance for multi-day overnight hikes, led by an armed ranger and involving either backpacking or using rudimentary trail huts.
Where to Look?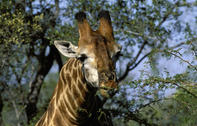 ©Nigel Dennis
Giraffe (Giraffa camelopardalis), browsing on Acacia. Kruger National Park.
The Kruger Park is chockablock with the Big Five - lions, leopards, elephants, buffalo, and rhinoceroses - but leopards are hard to find in their riverine habitat and rhinoceroses are common only in the southwest corner (near the Berg en Dal and Pretoriuskop rest camps). Other predators, such as wild dogs, are here, too, but are skittish and hard to spot.
Lions, buffalo, and especially elephants can be seen anywhere. Plains game - giraffes, zebras, wildebeests or gnus, and antelope - are ubiquitous, as are birds of prey. Consult the game-viewing book in each rest camp to find out where game is being seen. It's also a custom in South Africa to stop other cars and ask their passengers what they've spotted.
The Ultimate Wild Roost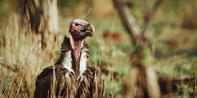 ©Robert Hofmeyr
Lappet faced vulture, Kruger National Park.
It might not seem so to the casual observer, but the Kruger has an amazing variety of veld types, all within the savanna biome. It has mixed bush and thornveld in the south, stunted mopane veld in the middle, sand bushveld in the north, and riverine forest throughout. This diversity allows the park to entertain 90% of all the raptor species that occur in the country and accommodates similar high figures for most other groups.
The total for the park's northern sector alone is around 400 species or half the country's total, Southern African Birding reckons the Kruger is the best birding place in the country, and with a total species count of 507, we'd have to agree. We also know the rest camps attract lots of feathery visitors, with the area around the Luvuvhu picnic site perhaps being the birding epicentre.
By
David Bristow