Twitcher's Paradise
Pafuri's tropical riverine forest is a highlight for South African twitchers as many birds reach the southern limit of their range here. Most of the roads in the Pafuri area follow drainage lines and always provide something for the birder.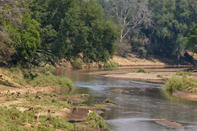 ©Roger de la Harpe
Luvuvhu River and Pafuri Riverine Forest, Kruger National Park.
Look out for mottled and Böhm's spinetails, especially in the baobabs. The riverine forest offers a wealth of interesting species, such as tropical boubou (difficult to see but often heard), crested guineafowl, Cape parrot and lemon-breasted canary.
The Big Six of Birding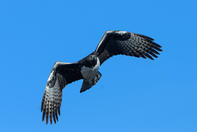 ©Shem Compion
Martial Eagle.
While hunters have traditionally had the Big Five, twitchers flutter over the Big Six: martial eagle, kori bustard, ground hornbill, Pel's fishing owl, lappet-faced vulture and saddle-billed stork. Your best bet for getting them all in one trip is Kruger National Park.
Fun For the Birders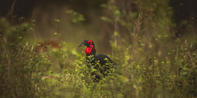 ©Robert Hofmeyr
Ground hornbill.
Annoy the big-cat watchers, who will cluelessly peer in the direction your pointing, and stop in the middle of the road to pick up the likes of Marico sunbirds, purple-crested louries and ground -scraper and kurrichane thrushes along the Sabie River. It's said that there are only 1500 Ground Hornbills left in South Africa, and that the numbers of this large, comical bird are likely to decline even further. The best place to see them is in Kruger National Park.By
Justin Fox