The Magnificent Seven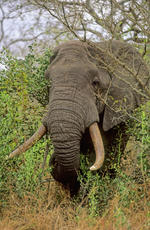 ©Nigel Dennis
African Elephant.
Elephants are wonderful creatures with wise eyes and rumpled skin, which always reminds me of my father's face. But it's the tusks that count and, in 1980, chief warden Dr. Uwe 'Tol' Pienaar identified the 'Magnificent Seven' – a septet of elephant bulls with mighty tusks weighing more than 50 kg each.
Thanks to some adroit publicity, the public responded enthusiastically and Pienaar (later Chief Director of SANParks) decided that, upon their death, each big tusker would be preserved in the Elephant Hall at Letaba rest camp. And so, today, you can still marvel at the skulls and tusks of Dzombo, Kambaku, Mafunyane, Ndlulamithi, Shawu and Shingwedzi (only João – the biggest of them all – is missing because he broke off his tusks in a fight and the remains were never found).
Eager to keep the legend going, the Kruger National Park has launched the Emerging Tuskers Project 'to identify all of the Park's large tuskers and clearly define their home ranges'. Visitors are all encouraged to participate by sending in photos of elephants with impressive tusks, with dates and location information.
By
David Fleminger