The Miracle Place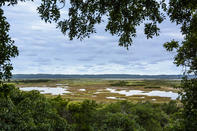 ©Roger de la Harpe
KwaZulu-Natal's Greater St Lucia Wetland Park has been officially renamed iSimangaliso, 'the miracle place', which is what it's called in the local lingo - and a most fitting name it is. The park has excellent biodiversity, containing marine, coastal, lake, estuarine, forest, wetland, savanna and grassland ecosystems, interwoven with all the Wildlife That goes with them – from sharks and crocodiles to eagles and rhinos. Also in iSimangaliso are Lake St Lucia, the largest body of inland water in South Africa, and Africa's southernmost coral reefs.
Lake Sibaya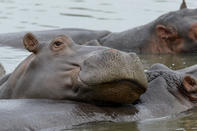 ©Roger de la Harpe
The new naming and renaming fashion that has gripped our country can be rather confusing at times, with pre-colonial names generally superseding colonial ones and then there's the matter of some names changing every time a new map comes out (Umfolozi/uMfolozi/Mfolozi/Mfolosi/lmfolosi as one example). So it might be that the current, new 'correct' name for the biggest natural lake in South Africa is Sibayi, rather than Sibaya.
In any event, this Zululand lake is full of fish and hippos and crocodiles. When the sun sets and the fish eagles and egrets fly over the water to roost on its edge in the dune-forest trees, and the hippos start bumping and 'yawning' at each other, the tableau etched in black and dark reds is one straight out of the Pleistocene era, before we traded our stones for computers and 4x4s. It's best seen from a canoe, after which you pull up on shore and the good people from the local lodge have set out a table with a makeshift bar.
Lake Ku-Hlange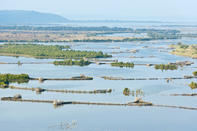 ©Roger de la Harpe
Otherwise known as Kosi Lake, Lake Ku-Hlange is in fact one of a series of interconnected coastal lagoons best known for the stick fish traps that the local Tsonga people use to catch fish. The structures are quite ingenious, funnelling fish through a serious of water 'kraals' into large, witch-hat-shaped traps.
The traps are ecologically friendly, as not only do they allow smaller fish and other aquatic organisms to escape, but they are made from local wood and bound together with shredded leaves of the raffia palms that grow in the vicinity.
The traps are passed down from father to son, as they have been for the 700-odd years that these Nguni people have lived in this economic backwater. The lake is the northernmost extent of the iSimangaliso Wetland Park and the mouth lies just 3 km south of the Mozambican border.By
David Bristow