'Place of the Tall One'
Howick is in the heart of the uMngeni Municipal region in the Midlands of KwaZulu-Natal, within easy reach of both Pietermaritzburg and the Ukhahlamba Drakensberg, one of South Africa's World Heritage Sites.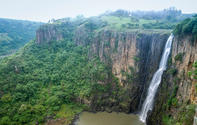 ©Jacques Marais
Howick Falls at 95 meters, is the second highest in South Africa.
The approximately, 95m high Howick Falls, is almost in the centre of the picturesque town and are known to the Zulu people as KwaNogqaza or 'Place of the Tall One'. This name refers to the dramatic Howick Falls, the waterfall first seen by Europeans in the early 19th century and now almost in the centre of town. Howick is set in the wondrous landscape carved by the many tributaries of the Umgeni River en route to the Indian Ocean, thus making for a scenic setting amidst the many natural gorges and hills.
It was established in the 1850s as a trading post at the then ford across the Umgeni River and was named for the British Colonial Secretary, Earl Grey, who had subsequently acquired the title of Lord Howick. Interestingly enough, the village was the place where Nelson Mandela was arrested in August 1962 and the Nelson Mandela Capture Monument's stunning optical illusion is well worth a visit.
This picturesque village is a favourite out-of-towner destination for city slickers, and is therefore abuzz with an array of quaint and inviting taverns, cafes and restaurants.
Did You Know? Legend has it that a serpent-like monster - Inkhanyamba in the Zulu language – frequents the pool below Howick Falls. This giant apparently sports a horse-like head and, when angered, can cause thunder and lightning to strafe the region.
By
Jacques Marais