Traditional Cuisine
Indulge in scrumptious local produce at the Karkloof Farmers' Market every Saturday morning, the perfect spot to meet the locals and sample their fare.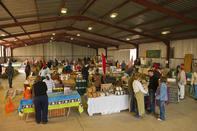 ©Roger de la Harpe
Farmer's Market, Howick.
Karkloof's Canopy Tour glides along cables through the tree-tops, allowing you entry into an untouched wilderness filled with rare fauna and flora. Go Zulu for a day, partaking in traditional cuisine and culture in a world full of sangomas storytellers, shebeens, authentic arts and crafts and friendly guides.
History of Famous Guests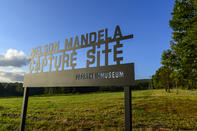 ©Roger de la Harpe
Nelson Mandela Capture Site and Monument, Howick.
The beautifully restored Howick Falls Hotel was built way back in 1872 as a major stop-over point for pioneers, explorers and weary travellers. The establishment boasts a proud history of famous guests, including the likes of Mark Twain, Cecil John Rhodes and Paul Kruger. For more history try Howick Museum as a starting point, but true time trippers will head to Pietermaritzburg, an easy 25km drive from Howick. The Natal Museum is renowned for its unique collections, while Macrorie House is a must-see, too.
Great Hiking and Trail Running
©Jacques Marais
Howick Falls is a spectacular, yet easily accessible, sports-climbing venue, right on the verge of the thundering falls. If you're looking for something wilder, head to Umgeni Valley Nature Reserve to find 'Glamorous Fool' or 'Tower of Power'. The Umgeni Valley Nature Reserve offers great hiking and trail running along routes such as 'Black Eagle' or 'Dwarfs Dawdle', but the game viewing and bird watching are sure to slow you down. Midmar Dam Resort's tranquil setting belies a wide range of action options, including water sports, biking, walking, game viewing and angling.By
Jacques Marais