Higher than Howick
Although less well known than the Howick Falls (93 m), the Karkloof Falls are in fact significantly higher, and as such they are the highest in the well-watered KwaZulu-Natal Midlands.
©Roger de la Harpe
Karkloof Falls, plunging at 105 metres into the Karkloof Valley, Howick.
In fact, at 105 m they are officially the 10th highest in the country (though some references say less). As with just about all the main waterfalls in South Africa, they can seem pretty puny in the dry winter season, but just watch them go come the summer thunderstorms.
They occur in the 936-ha private Karkloof Nature Reserve, close to Howick. Although the reserve is not open to the public, you can view the falls from the forestry picnic site across Woodhouse Valley. An even better way, though, if you have a head for these things, is on the 175-m-long Karkloof's Canopy Tour foefie slide.
Waterfalls and Log Cabins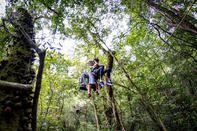 ©Jacques Marais
Foefie Slide (175 metres long), Karkloof's Canopy Tour, Howick.
For the best mountain biking you need, first, mountains, or at least hills that offer hard climbing and adrenaline-pumping descents, and second, a forest (plantations will also do fine) to create the right mood. The Howick Mountain Club is a club in name only, allowing riders in the Midlands access to private forestry lands.
The areas used are the Sappi plantation on the edge of town and the Karkloof Nature Reserve 20 km away, where there's natural forest, with rivers, waterfalls and log cabins, if you want to stay over. Fast single-track is good here, with some 30 km of technical track laid out. But you can only get access through the club.
By
David Bristow